The actual entrance fee to Nyungwe Forest National park is $40 for foreign non-residents and foreign residents. However, park entrance fees are normally included in the package a travel is interested in. Different travel activities in Nyungwe Forest National Park call for different charges inclusive of the park entrance fee. Its obvious that whoever visits Nyungwe Forest is interested in doing a certain activity. Nyungwe forest is the second most visited park in Rwanda. Nyungwe Forest is located in southwestern Rwanda and is a center of Rwanda chimpanzee trekking tours. African Apes Holidays gives you a detailed breakdown of entrance fees to Nyungwe Forest National Park:
Chimpanzee trekking permits
Chimpanzee trekking in Nyungwe Forest costs $90 for foreign non residents, &60 for foreign residents, RWF 5000 for Rwanda nationals, $10 for East African community citizens. Rwanda citizen students pay RWF2500, foreign resident students pay $30 while East African Community students pay $5. This cost is valid for 24 hours. Like in the gorillas, a chimpanzee permit expires within an hour of seeing these primates. Nyungwe Forest is home to roughly 400 chimpanzees habituated into two communities. The gorillas live in Uwinka and Chamudongo Forests. A traveler can therefore trek chimpanzees in either forest. Travelers are required to reach Uwinka park headquarters as early as 7:00am for briefing and registration. Trekking to meet chimpanzees starts at 8:00am and the actual time to spend before meeting chimps is unpredictable. Depending on where the primates will be that day, the trekking time range between 30 minutes to a full day. However, travelers are 99% sure of meeting the gentle giants at the day of the tour. The allowed time with chimps is strictly an hour.
Canopy walk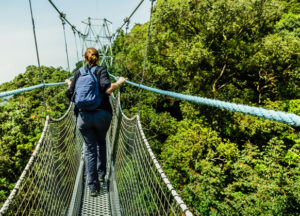 Canopy walk in Nyungwe Forest costs $60 for foreign non-residents, $50 for foreign residents, Rwf 5000 for Rwanda local residents, $10 for East African Citizens. Rwanda student citizens pay Rwf5, 000; East African Community students pay $5 while foreign resident students pay $25. Canopy walk is the second most done travel activity in Nyungwe Forest National Park. The 2 hours walk 60 meters on top of the forest is an exceptional; experience you ought not to miss. The experience offers you excellent aerial views of Nyungwe Forest, Virunga volcanoes, local farms and neighboring communities.
Trekking other primates

Do you want to trek other primate species in Nyungwe Forest? The experience costs $60 for foreign non residents, $40 for foreign residents , Rwf5000 for Rwanda nationals, Rwf1,500 for Rwandan citizen students, $ 3 for East African Community students while Foreign resident students pay $20. The cost is inclusive of the park entrance fees, guide fee, conservation fee and contribution to local communities. Monkey species in Nyungwe Forest National Park include
1. Grey cheeked Mangabey
2. Common Chimpanzees
3. Olive Baboons
4. Silver Monkey
5. Vervet Monkey
6. Ruwenzori Colobus
7. L'Hoest Monkey
8. Red Tailed Monkeys
9. Golden Monkeys
10. Dent's Mona Monkey
11. Hamly's Monkey
Bird watching
Nyungwe Forest National Park is home to over 275 bird species making it a birding spot in Rwanda. Foreign non-resident birders pay $50 and $40 for foreign residents. Birds in Nyungwe Forest National Park include Yellow eyed black flycatcher, Red faced woodland warbler, Red collared babbler, Blue headed sunbird, Ruwenzori Apalis, Archer's robin chat, Ruwenzori apalis, strange weaver, Dusky crimson wing, Regal sunbird, Buff throated apalis, Kivu ground thrush, Red throated alethe and Handsome francolin among others. January to June is June is the best time for bird watching in Nyungwe Forest. November to April is the best time to see migratory birds in Nyungwe Forest National Park.
Accommodation in Nyungwe Forest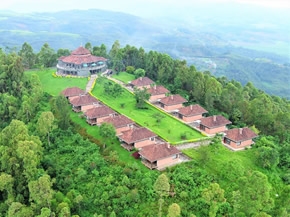 Among the top lodges and hotels in Nyungwe Forest National Park include One and Only Nyungwe House, Nyungwe Nziza Eco lodge, Kitabi Eco Centre, Nyungwe Top View Hill Hotel, Gisakura Guest House, Gisakura Family Hostel, Café Resto Bar Keza, Uwinka Campsite, KCCEM Guesthouse. These facilities offer excellent food, sleeping and in-room services at affordable rates. Prices range in Budget, Midrange and Luxury depending on the standard of the lodge/hotel.
How to book a Rwanda safari to Nyungwe Forest
Do you want to book a chimpanzee, canopy walk or any other tour to Nyungwe Forest? African apes holidays is at your service. We offer tailor-made Rwanda safaris for chimpanzee trekking, mountain gorilla safari s and other related experiences at affordable prices.
Other top places to visit in Rwanda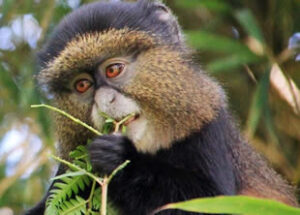 Besides Nyungwe Forest, travelers on Rwanda safaris are advised to visit other top places in Rwanda for a complete Rwanda safari package. The other top paces to visit in Rwanda include:
• Volcanoes National Park in northwestern Rwanda. This is a center of mountain gorilla trekking, golden monkey trekking, Dian Fossey hike, Mt Karisimbi hike and Musanze caves among others
• Akagera National Park. The park is home to the big five game. Game drives through the park offer you excellent views of numerous wild animals such as Elephants, lions, zebras, girafees, Hippos, buffalos, Rhinos, Kobs, waterbucks, Topis, warthogs, Impalas and duikers among others.
• Gishati Mukura National Park. This is Rwanda's newest National park a home to numerous monkey and bird species
• Kigali City. The city tour takes to genocide memorial centers, shopping malls, art galleries and local markets.
• Iby'Iwacu community village to learn and experience Rwanda's traditions, norms, culture and beliefs.
Pay attention to park entrance fees in Nyungwe Forest National Park before confirming any Rwanda safari to this Park. Contact African Apes Holidays for more advice and bookings.