Located in eastern Rwanda, Akagera National park is the only savannah park in Rwanda spreading over 1122 square kilometers. The park is named after Akagera River, which flows in the heart of the park feeding into Lake Ihema. Akagera national park was established in 1934 to promote game safaris in Rwanda and diversify tourism experiences in the land of a thousand hills. Akagera National park is jointly managed by African Parks and Rwanda Development Board, which promotes wildlife conservation and tourism in this game park. Akagera Park is locally translated as Parc National de I'Akagera and is home to the big five game. Despite in 1990's when tourism in Akagera national park was almost extinct, game safaris in Akagera park has made a come back with the reintroduction of rhinos and lions making it home to the "Big five game". The vegetation cover in Akagera National park is mainly open grassland and swamps. A third of the park is covered by water (Lakes, Rivers, and streams). A 3 Days Akagera National park tour is your best package to explore this savannah park in the shortest time possible. The drive from Kigali to Akagera National park is roughly 2-3 hours with scenic views of Rwanda's local villages and endless rolling hills. Game safaris in Akagera National park are normally done as a complete to gorilla trekking in Volcanoes National Park and chimpanzee trekking in Nyungwe Forest National park.
Activities in Akagera National Park
Rwanda safaris to Akagera National park give travelers with an endless list of tourist activities to ensure a memorable experience. The top things to see and do in Akagera National park include:
Game viewing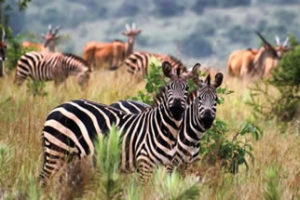 This is the number one tourist activity in Akagera National park on your Rwanda tours. Bing home to the big five game, Akagera game park gives travelers with a memorable game viewing experience, a close encounter with numerous animals in their natural habitats. Game drives through the open savannahs offer you spectacular views of wild animals such as lions, elephants, giraffes, leopards, rhinos, hippos, Topis, Roan antelopes, duikers, impalas, Cape elands, Waterbucks, Bohor reedbuck, zebras and hyenas among others. Also, night game drives are done to see nocturnal animals such as bushbabies and serval cats among others. The reason for early morning game drives is to catch up with wild animals grazing, browsing and hunting before retiring for day rests.
Boat cruise
A boat cruise on the calm waters of Lake Ihema is a not miss on your Rwanda safari to Akagera National Park. The shores of Lake Ihema shelter high numbers of hippos in East Africa and so the crocodiles seen resting lazily at the shores. A boat cruise is a relaxing experience that will give you a fresh feeling of cold breezes and air. Also, the swamps on the lakeshores of Lake ihema shelter numerous birds such as rare shoebill stork, which makes your whole experience memorable. Enjoy the beautiful sceneries of cultivated hills of Rwanda on your boat ride on Lake Ihema.
Bird watching
Akagera National park is home to over 520 bird species hence the best spot for bird watching. Expect to see high numbers of savannah and migratory birds in Akagera National park. Among the birds in Akagera national park include Red-faced barbes, shoebill stork, Flycatcher, Grey-crowned crane, Giant Kingfisher, Senegal Lapwings, Papyrus Gonolek, African wattled plover, African Openbill stock, African darter and egrets. Experienced guides help you spot different birds. Bird watching is well done in the swampy areas of Akagera National Park.
Sportfishing
Go for sport fishing on Lake Shakani for an extraordinary experience. You will join local fishers on a boat, set nets and start chasing the fish to go into the net. Singing is a must-do as one habit of fishermen to boost their morale and make this experience more enjoyable. At times, travelers get a chance to cook the fish captured and enjoy it making this whole experience memorable.
Accommodation in Akagera National Park
About where to sleep in Akagera National Park, a variety of lodges, hotels, and camps have been put up to serve travelers with excellent food and sleeping services. The top lodges in Akagera national park include Akagera Game Lodge, Ruzizi Tented Camp, Akagera Rhino game lodge, Akagera Resort, and Country club.
Park entrance fees to Akagera National Park
Entrance fees to Akagera national park apply to the clients, guides, and travelers. Each fee is paid separately. The actual park entrance fee for every client is $40 valid for 24 hours. The guiding fees through the park cost $25 half-day and $40 for full-day guiding. Small vehicles/minibusses are charged $12 while big buses and overland cars are charged $40 if they are Rwandan /East Africa registered. Foreign registered vehicles are charged higher %100 for the minibusses valid for 24 hours. If you want a sunset trip to Lake Ihema, the experience costs $45 while fishing in the park costs $25 for adults and $15 for children.
When to visit Akagera National park? Weather
Akagera National park can be visited all year round. The park majorly receives two weather seasons i.e dry and wet seasons. The dry /peak season is between the months of June, July, August, September, October, December, January and February. The wet/rainy season is between March, April. May, October, and November. However, despite the difference in seasons, Akagera national park can be visited throughout the year with a 100% guarantee of a memorable experience.
What to pack for Akagera National Park
Make sure y pack the essentials if you want to have a wonderful Rwanda tour in Akagera National park. The packing list to Akagera national park includes long-sleeved shirts, safari shorts, safari stockings, Comfortable underwear, long trouser, sweaters and safari hat.
African Apes Holidays offers you memorable Rwanda safaris to Akagera National park. Contact us today, book your game safari to Akagera and enjoy the beauties of this scenic park.