Are you planning a gorilla safari in Rwanda? African Apes Holidays gives you a handy guide to trekking Rwanda gorillas in Volcanoes National Park. Rwanda is now open for tourists who want to visit the endangered mountain gorillas. For over the years, mountain gorilla trekking has ranked as a top wildlife experience in the world. Our guide to gorilla trekking in Rwanda entail how to book a gorilla permit, when to visit, what to carry and answers to all frequently asked questions about gorilla trekking in Rwanda. Volcanoes National Park is a first stop Centre of gorilla safaris in Africa located 3 hours from the airport. Other population of mountain gorillas in Africa lives in Uganda and the Democratic Republic of Congo.
Gorilla permits in Rwanda (Prices and booking process)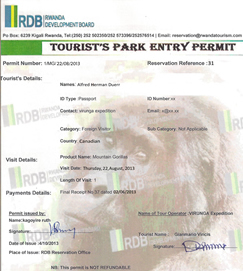 A gorilla permit is a first thing you should secure to trek gorillas in Rwanda. It's a pass to see gorillas and you cannot be allowed to visit the endangered gorillas without it. Everyday, Rwanda Development Board issues 80 gorilla permits to first come travelers who want to visit these endangered species. Each permit in Rwanda costs $1500 paid by all people irrespective of one's nationality. In other words, even Rwanda nationals and citizens also pay the $1500 to visit the gorillas. However between June to 31st December 2020, Rwanda different Board is offering discounted gorilla permits at $200 for Rwanda nationals and East African citizens. Rwanda gorilla permit booking is recommended at least 6 months in advance. The reason for early booking is the high demand and low supply of permits in Rwanda. You can book directly with Rwanda Development Board or through African Apes Holidays, your trusted gorilla safari company in Rwanda and East Africa. On booking, travelers are asked to pay 30% booking fee on the permit. Payment to zero balance is required at least 90 days to the trekking date. Anyone who fails to finish the payment in time will lose the permit and the deposit money which is non refundable.
Gorilla families in Rwanda
Having secured your permit, the next thing to think about is which gorilla family to visit? Volcanoes National Park has 10 habituated gorilla families. You have a chance to visit any one of the 10 gorilla groups. Whereas gorilla family allocation is done by park rangers. You can choose a gorilla family of your choice. Tell this to your travel agent and guide before the trekking date and he/she will inform park rangers to allocate to you that specific gorilla family of your choice. Rwanda gorilla families in Volcanoes National are Hirwa family, Karisimbi (Susa B) Family, Sabyinyo family, Susa A family, Agashya family, Kwitonda family, Amahoro family, Ugenda gorilla family, Bwenge family and Umubano family. Eight people per day visit each family.
What to carry for gorilla trekking in Rwanda
Make sure to carry the right attire for gorilla trekking in Volcanoes National Park. The packing list for gorilla trekking in Rwanda should include hiking boots/shoes, scarf, rain jacket, garden gloves, hat, sunglasses, insect repellants, drinking water, energy giving snacks, and long pants. Any traveler with the right attire is assured of a peaceful gorilla trek. You can get plastic hiking boots for hire at Kinigi Park headquarters.
When is the best time to trek gorillas in Rwanda
Dry season in the months of June, July, August, September, December, January and February is the best time to trek Rwanda gorillas. Photography is best during tis time. Also, hiking through the forest is quite simple in the dry season unlike in the rainy season when forest grounds become slippery and muddy. However, wet season in March, April. May, October and November is also good. During low season, travelers have high chances of discounted services in hotels, lodges and transport services. Low season is the best time for budget travelers.
Where to stay for gorilla trekking in Rwanda

A variety of lodges, hotels and camps have been established in Rwanda to offer you with first class food and sleeping services at affordable rates. The top lodges in Volcanoes National park include Mountain Gorilla View Lodge/ Bisate Lodge, Sabyinyo Silverback Lodge, Virunga Lodge, Da Vinci Gorilla Lodge, Five Volcanoes Lodge, Kinigi Guest House, Gorilla Solution Lodge and Amakoro Songa Lodge. These lodges have well trained staff who ensure a smooth service delivery system.
How to get to Volcanoes National Park
Volcanoes National Park is located roughly 2-3 hours drive from Kigali International Airport. Road transport is the best means to get to and around gorilla park of Volcanoes National Park. Travelers fly into Kigali airport and drive north westwards through the city to the park.
African Apes Holidays is your best guide for gorilla trekking to Volcanoes National Park