Is gorilla trekking safe? Safety is a concern for all travelers booking gorilla safaris in Africa. How safe is gorilla trekking in Uganda, Rwanda and the Democratic Republic of Congo is one of the common asked questions in gorilla tour bookings. Travelers want to be sure of their safety while with gorillas in the jungle forests of Africa. For the first time travelers, gorilla tracking is indeed threatening given the huge size of a silverback gorilla, his serious looks and the forested nature of gorilla habitats. However, African Apes Holidays guarantee your safety on your gorilla tour to Africa. YES, we give you gorilla trekking safety tips to ensure your safety and that of the endangered mountain gorillas. These include: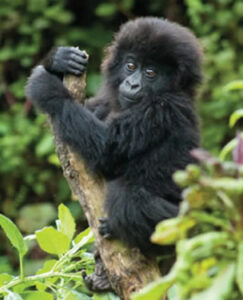 Keep a distance away from the gorillas
Please, do not come so close to the endangered gorillas. Keep a distance of at least seven meters away from the gorillas to give them some free space. Coming so close to gorillas looks like you are encroaching on their privacy, which can cause them to charge at you. Moreso, keeping a distance is one o= way of preventing the transmission of communicable diseases especially flue and cough from humans to the endangered gorillas. Similarly, people can catch some animal diseases if they come so close to the gorillas. These endangered species share over 99% of human genes. This makes them to susceptible to human illnesses, which can be deadly to them.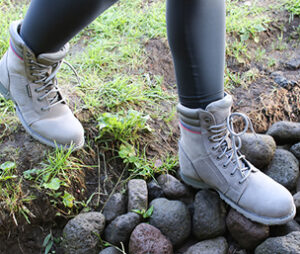 Wear closed shoes and gardening gloves
You must dress right for the jungle if you want to be safe. Closed shoes are recommended to protect your feet from sharp stones and sticks. Also, closed shoes protect your feet from dirty mud, which at times can be slippery making it hard for one in sandals to walk through. The shoes should also be waterproof to ease your movements. More so, gardening gloves protect your hands from thorny bushes and dirty grounds. At some point in gorilla trekking, travelers are forced to touch down or grab bushes for support especially after rain. Your soft hands will be safe with gardening gloves. The other things to carry for gorilla trekking include long sleeved shirts/blouses, insect repellants to prevent poisonous insect bites, rain jacket, hat and sun glasses. A walking stick and porter are also helpful in gorilla trekking.
Avoid direct eye contacts with the silverback gorilla
Do not look direct into the eyes of the silverback gorillas. During the pre gorilla trekking briefing, travelers are asked not to look direct into the eyes of the gorillas. Direct eye contact irritates the gorillas. It makes a silverback gorilla scared forcing him to behave wild. Keep focused on your camera, observe silently the human like characters of the gorillas and utilize this hour to the maximum.
Keep within your group
Do not split from your group! Gorilla trekking at time s takes several hours of roaming in the jungle before meeting the endangered species. During this time of hiking, travelers are reminded to keep within their group of sight. Splitting and moving alone in the jungle so risky and dangerous for you.
Listen to your ranger guide
You will be assigned two armed park rangers to escort you on your gorilla tour experience. These rangers are experienced with gorilla behaviors and can tell when a gorilla is in good or bad mood. If the ranger guide tells you to step back, please do for your own safety.
Do physical exercises
Travelers warming up for gorilla trekking are also advised to do physical exercises to ensure fitness. A hike up and down hill to see gorillas is a strenuous activity, which require fitness. Some travelers who are not fit find it hard to make it to the gorillas. Examples of physical exercises recommended for physical fitness include walking, stretching, and long hikes among others.
Do not trek when sick
If you feel any sign of sickness, please do not insist to trek the endangered gorillas.
Safety remains key for every successful gorilla trekking experience. Contac African Apes Holidays for more gorilla tour advice and bookings!