We all know that children below 15 years are not allowed to trek mountain gorillas in Uganda, Rwanda and the Democratic Republic of Congo. Which alternative activities that children can do while parents trek gorillas is one of the frequently asked questions by most travelers planning gorilla safaris in Africa. Are you planning a family trip and wondering which activities can your kids of below 15 years will do while you trek gorillas? No worries, African Apes Holidays offers you a list of suitable activities for children on a gorilla trip to make your safari fun for everyone. Gorilla trekking is the leading primate safari experience in Uganda, Rwanda and the Democratic Republic of Congo, which bring the highest number of travelers from all over the world. Age restrictions is one of the major concerns in all gorilla national parks across Africa. The top activities for children on a gorilla safari include among others:
Nature/Forest walks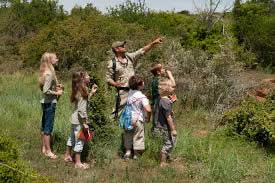 While parents trek into the jungle in search of the gentle giants, children can go for a guided nature /forest walk. In most cases, nature walks are done a short distance from the hotel and can last for up to two hours but at a relaxed speed. A nature walk is the best moment for children to pick up beautiful flowers, look up for birds in the trees and small forest animals especially monkeys. Walking on foot through the forest is the best way to explore and enjoy the quite natural en environment. Children will follow different trails to visit some tourism spots such as waterfalls, which make the whole experience more enjoyable.

Community visits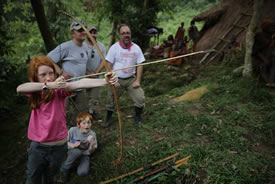 Children are also taken to visit local communities neighboring gorilla national parks in Uganda and Rwanda. The most visited local villages are for batwa pygmies where kids are taught about the forest life of these Batwa people and how they lived harmoniously with wild animals for thousands of years. More so, local people who perform traditional dances, songs and skits introduce young kids to local community's traditions, norms and customs, entertain children. Children are also guided to neighboring village schools where they get a chance to interact with fellow kids. Community visits also involve touring medical centers and other community projects. Kids are allowed to take part in some local activities such as grinding sorghum and peeling plus traditional dances, which make them, feel as part of the local community.
If you are doing a Rwanda gorilla safari in Volcanoes National Park, children can visit the Iby'iwacu community village to learn more about Rwanda's traditions, norms and customs.
City tours
A city tour especially to the beautiful Kigali is a not miss for kids. While children are taken to various art galleries, local markets and shopping malls, which is an interesting, experience. The other interesting activities for kids in Rwanda include Heaven restaurant & inn Playground, City Arts classes, Pili Pili sandbox and pool, Fazenda Sengha Horse Farm, Spiderman Game Center, Playground at Mamba Club, Playground at La Palisse Hotel, Play Area at Bamboo Chinese, Pool at Umubano Hotel and Play area at Monaco Café. Parents are very assured that kids will have a good time on a gorilla tour to Africa.
Photography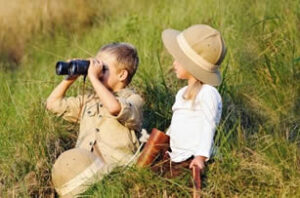 Kids are well versed with the camera can go for photography near the hotel as their parents trek the gorillas. Photography goes along with filming which is indeed an interesting activity.
What to pack for kids of an African safari
In order to ensure safety and comfort of children on your gorilla safari to Africa, parents are reminded to pack the following for the kids:
Snacks and drinks: Safaris to see gorillas normally take long hours before travelers come back. More so, parents go with packed lunch into the jungle. It's therefore wise to pack enough snacks and drinks for the kids to keep them strong in absence of their parents
Playing toys
Endeavor to bring playing toys for your children. These will keep them busy throughout and kill the boredom. However, do not carry big heavy toys to reduce on the baggage.
First aid kit
Parents are also reminded to bring a first aid kit for safety in case of any accident. The fact that kids can at times be playful, sliding and falling on sharp objects is inevitable. A first aid kit is therefore a must have on an a gorilla safari in Africa.
Warm sweaters and jackets
Gorilla parks (Bwindi Impenetrable Forest, Volcanoes, Virunga and Mgahinga Gorilla National Parks) are generally cold especially at night and in the morning hours. Travelers are therefore reminded to bring warm sweaters to save kids from cold nights.
In general, traveling with kids is undeniably an interesting experience you should try. African Apes Holidays offers you suitable activities for children while travelers trek gorillas in Uganda, Rwanda and the Democratic Republic of Congo.