Another baby gorilla has been born in Ruhija sector of Bwindi Forest National Park. The new baby was born on 11th October 2020, bringing the total of newborn babies to 7 since March 2020. The baby gorilla was born to Twijukye, an adult female gorilla in Mukiza gorilla family. The new baby gorilla has raised the number of mountain gorillas in Mukiza family to fifteen. Uganda Wildlife Authority continues to celebrate new gorilla births in Uganda which has increased on the number of these endangered species in Africa's pearl.
Gorilla baby boom in Uganda

Since the start of covid19 lockdown in March 2020, Uganda has experienced a great
baby boom in mountain gorillas
with now 7 births in this shortest time. In a few months back, more other 6-baby gorillas have been born in Uganda, 5 in Bwindi Forest (Rushaga and Buhoma sectors) and 1 baby in Nyakagyezi gorilla family in Mgahinga Gorilla National Park. The birth of baby gorillas is a great achievement for Uganda Wildlife Authority and the entire Uganda Tourism fraternity. More so, the birth of new baby gorillas gives hope for sustainable
Uganda gorilla tours
for the future generation. Uganda is home to over 600 mountain gorillas, which count to half of the world's total gorilla population. 18 gorilla families have been habituated in Uganda to ease trekking. These gorillas in Bwindi Forest are split into four sectors, namely, Buhoma in the north, Ruhija in the east, Rushaga and Nkuringo in the south. These sectors make up Bwindi Impenetrable Forest National Park.
About Ruhija Gorilla sector
Located east of Bwindi Impenetrable Forest National Park, Ruhija sector is worth visiting. Habituated gorilla families in Ruhija sector include
1. Bitukura gorilla group, which derive its name from River Bitukura where the gorilla family was first sighted. Bitukura family was opened for trekking in 2008 and is normally seen along Ruhija trekking trail. Bitukura apparently has 13 members with four silverbacks, 4 adult females, 3 infants and 2 juveniles.
2. Oruzogo Gorilla Family: Oruzogo gorilla family was opened to tourists in 2011 and is one of the most visited gorilla families in Ruhija sector. Bakwate is the head silverback gorilla family in Oruzogo gorilla family who leads the other 16 family members. The family name "Oruzogo" is the name of a local plant, which dominates the home range of Oruzogo gorilla family.
3. Kyaguliro gorilla family: Kyaguliro is the oldest gorilla group in Ruhija sector, which was habituated in 1995. The family was initially reserved for research purposes but was later opened up for travelers to visit. In 2016, Kyaguliro family split into two after a misunderstanding between the then silverback Mukiza and another immigrant silverback named Rukara. Apparently, Kyaguliro gorilla group comprise of Kyaguliro A led by Rukara and Kyaguliro B led by Mukiza silverback. Kyaguliro A group comprise of 10 members who include 1 silverback, 3 Adult females, 2 infants, 2 black backs and 2 Juveniles. Similarly, Kyaguliro B group comprise of 10 members who include 4 Adult females, 1 silverback, 4 infants and 1 black back.
Everyday, each gorilla family is visited by a group of 8 travelers for an hour
Top activities in Ruhija sector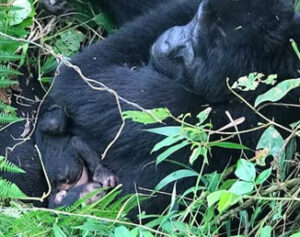 Travelers visiting Ruhija sector have various things to see and do in this region to reward them with a memorable experience. The top tourist activities in Ruhija sector include:
• Mountain gorilla trekking: This is the most done tourist activity in this sector. 32 gorilla permits are available in Ruhija for first comers.
• Batwa community tours to learn and experience the traditional forest life of Batwa pygmies in Bwindi
• Community project tours to schools, bee hives and local markets
• Bird watching
• Nature/Forest walks

Other sectors in Bwindi Forest
Besides Ruhija sector, Travelers to Bwindi Forest can visit any other of the three sectors in the Park. These are Buhoma in the north, Rushaga in the south and Nkuringo. Each sector has different gorilla families and offer different trekking experience. Each morning, travelers drive to different park head quarters depending on which sector one is visiting. Buhoma sector is easily accessed from Kabale while Rushaga sector is well accessed from Kisoro district.
Conclusively, the birth of a new baby gorilla in Ruhija sector is a blessing for tourism in Uganda. Book a Uganda gorilla safari today and meet the new babies born in Bwindi Forest at a close range.