Bwindi impenetrable Forest, Uganda wildlife authority and all mountain gorilla lovers in Uganda and abroad are jubilating the birth of the 5th baby gorilla in Buhoma sector north of Bwindi Impenetrable Forest National Park. The new baby gorilla was born to Ruterana, an adult female gorilla in Rushegura gorilla family in Buhoma sector. Rushegura family received another baby gorilla a few days ago, which indeed calls for celebration! The new baby gorilla has increased the number of mountain gorillas in Bwindi Forest to 18. Ruterana mother gorilla was born on 1st Jan 2002 aged 18 years old. The new baby gorilla is her third offspring within 18 years.
Other baby gorillas born in Bwindi Forest
The other baby gorilla was born in early August 2020 to Kibande adult female gorilla in Rushegura gorilla family still in Rushegura Gorilla Family. Kibande mother gorilla is one of the senior's adult females in Rushegura gorilla family and she is a kingmaker and a planner in Rushegura gorilla family.
The baby boom in Bwindi Forest National Park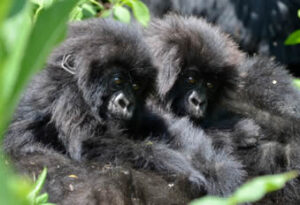 There has been great baby boom in Bwindi Impenetrable Forest National Park in the past 5 months since the start of corona virus lockdown in March. The endangered mountain gorillas were feared to catch the deadly corona virus, which called for the closure of Bwindi Forest and a halt on all tourism and research activities to curb the spread of this disease. However, in June 2020, Uganda Wildlife Authority eased the lockdown and reopened the park for mountain gorilla trekking. Mountain gorilla lovers who cancelled their travels are called on to come and do their gorilla treks. However, Entebbe International Airport is still closed to international flights. All travelers visiting to see mountain gorillas in Uganda's Bwindi Impenetrable Forest and Mgahinga Gorilla National Park are advised to fly into Kigali Rwanda and do Kigali to Bwindi gorilla trekking. A 3 days Uganda gorilla tour starting and ending in Kigali Rwanda is a best package for you. On the first day, travelers are picked from Kigali airport and driven to Bwindi Forest, on the second day; travelers are guided to visit the gorillas while the third day id for traveling back to Kigali for a return flight.
Do you have a tight schedule and wondering whether it's possible to see the gorillas? No worries, African Apes Holidays offers a 1 Day Bwindi gorilla tour starting and ending in Kigali Rwanda. Here travelers leave Kigali at 3:00am, drive to Bwindi Forest, trek gorillas and in the evening drive back to Kigali. Our short gorilla tours give short time travelers a chance to see the endangered mountain gorillas in the shortest time possible.
Gorilla Families in Bwindi Forest
Bwindi Forest is home to 17 habituated gorilla families making it home to the highest number of gorillas in the whole world. The high number of gorilla families assure travelers availability of gorilla permits and hence a chance to trek the endangered gorillas. Each gorilla family is visited by 8 people a day hence 136-gorilla permits available everyday. Gorilla groups in Bwindi Forest are split in four sectors, which are Buhoma in the north, Ruhija in the East, Nkuringo and Rushaga in the southern sector. The names of gorilla families in Bwindi Forest are Mubare, Habinyanja, Rushegura, Nkuringo, Oruzogo, Bitukura, Busingye, Kyaguliro, Mishaya, Nshongi, Katwe, Muyambi and Christmas gorilla families. More so, Bwindi Forest has 2 gorilla families undergoing habituation experience. These are Bushaho and Bikingyi gorilla families each visited by 4 people per day for a four-hour's interaction.
Cost of gorilla tours in Uganda
Each gorilla permit to visit gorilla family in Bwindi Impenetrable Forest and Mgahinga Gorilla National park costs $700 for foreign non residents, $600 for foreign residents and UGX 250,000 for East African residents. On the other hand, a permit for gorilla habituation experience costs $1500 for four hours. African Apes Holidays help you book and reserve gorilla permits as well as arranging tailor made gorilla tour packages. All gorilla permit bookings are recommended at least 6 months in advance to ensure timely planning.
What to pack for gorilla trekking in Uganda
Are you set to trek gorillas in Bwindi Forest National Park? Remember to pack the essentials to ensure peaceful gorilla encounter. Among the things to pack for gorilla trekking in Uganda include:
1. Hiking boots
2. Gardening gloves
3. Sun glasses
4. Long sleeved shirts/blouse
5. Long pants
6. Sun glasses
7. Hat
8. Energy giving snacks
9. First aid kit
10. Insect repellants
Generally, we continue to celebrate the birth of baby gorillas in Bwindi Impenetrable Forest National Park. Gook your gorilla today and get a chance to visit the newborn babies in Bwindi Forest with African Apes Holidays.