Whereas primate trekking in Africa is now open for both local and international travelers, the endangered primates are still at a risk of catching the deadly corona virus that is still roaming like wild fire. Respective conservation bodies in Uganda, Rwanda and the Democratic Republic of Congo have put covid19 Standard Operating Procedures to ensure safety of the endangered primates and travelers. Primate trekking entail gorilla trekking, chimpanzees and golden monkey tracking. Primate especially chimpanzees and mountain gorillas are man's close relatives which share over 98% of human gens. This make them susceptible to human communicable illnesses especially, corona virus cough, flue and cold among others. Before confirming any gorilla tour of chimpanzee safari, all upcoming primate trekkers are advised to read extensively and understand all Covid19 standard Operating procedures for gorilla tours and other primates in Uganda, Rwanda and the Democratic Republic of Congo.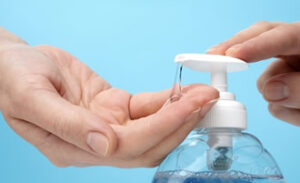 African Apes Holidays brings you detailed SOPs for primate trekking in Africa. These include:
1. All travelers must have tested negative for covid19 72 hours before travelling. These results are requested at the airport and also respective primates national Park
2. Travelers must wash hands thoroughly with soap and clean running water
3. Sanitize hands with alcoholic based content
4. All travelers and park rangers must wear masks all through
5. Park rangers, wardens and porters must be covid19 negative
6. When in the presence of gorillas, chimpanzees or golden monkeys, travelers must keep a distance of 10 meters away
7. Travelers must wear leather gardening gloves to avoid direct touching on surfaces already touched by other travelers
8. Any traveler showing any signs of sickness, flue, cough is not allowed to visit the endangered primates
9. Travelers are advised to carry light bags to avoid a need of hiring a porter. Porters are not allowed given the limited number of people allowed to be together
10. Only eight people are allowed to trek a gorilla family
11. Interaction with the endangered gorillas, chimpanzees and golden monkeys is limited to an hour
12. Visiting chimpanzees is limited to only six people per group
13. Temperature screening at each park entrance is a must
14. Travelers and park rangers must keep a distance of 2 meters away from one another
15. Park rangers will allow several breaks to allow travelers remove masks and breathing some fresh air.
16. Each group of eight people are briefed separately to avoid large crowds
17. Six travelers are only allowed to visit each chimpanzee community
More guideline for Mountain Gorilla, chimpanzees and golden monkey trekking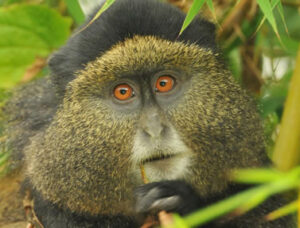 Apart from the Covid19 standard operating procedures, travelers visiting to trek gorillas, chimpanzees and golden monkeys in Uganda, Rwanda and the Democratic Republic of Congo must adhere to other rules and regulations of primate trekking: These include
1. A valid permit is must have for each traveler. No one is allowed to visit the primates without a permit
2. All travelers must be aged 15 years and above
3. Avoid looking direct into the eyes of the endangered primates. It irritates them forcing them to behave wildly
4. Do not use flash light cameras
5. Keep your voices low while in the jungle. Primates normally love a quite environment
6. Do not litter anything in the park. Leave nothing but only the footprints
7. Do not touch the primates. Touching a by gorilla or chimpanzee will make a mother or silverback charge at you
What to carry for primate trekking in Africa?
Are you wondering on what to carry for your gorilla, chimpanzee or golden monkey trekking safari in Africa? Check the list of what to pack for primate trekking in Africa with African Apes Holidays
• Light hiking boots/shoes. The shoes should also be waterproof to prevent your feet from getting wet and muddy
• Gardening gloves to protect your hands from touching dirty surfaces and thorny bushes
• Rain jackets to deal with the unpredictable Forest weather
• Long sleeved shirts
• Long pants
• Sun glasses
• Hat
• Insect repellant to prevent insect bites
• First aid kit for any emergency
• Bottled drinking water
• Extra batteries for the phone and camera
• Energy giving snacks
• Warm sweaters and scarf for cold nights
Conclusively, observing covid19 standard operating procedures in primate trekking is highly recommended. Contact African Apes Holidays today, book a gorilla safari in Africa or any other primate safari, follow the SOPs and enjoy the once in a lifetime experience.