Forest/nature walks are one of the interesting travel experiences in Mgahinga Gorilla National Park. Trekking through the jungle forest on foot is a best way to explore all hidden treasures in the jungle. Armed park rangers guide travelers into the forest to visit different attractions including waterfalls, caves and swamps among others. The sweet melodies of birds up in the trees make the whole experience magical. Walking slowly in the forest gives you a true feeling of quite, cool and natural feeling of Mgahinga Gorilla National Park. Moreso, a forest walk through Mgahinga is a chance to see other different plant species, birds and wild animals, which you will meet on your trek. Nature walks are normally done as add on gorilla trekking, golden monkey trekking and other wildlife experiences to make a complete safari package. The top walking trails in Mgahinga Forest National Park include:
Batwa Cultural trail

Batwa cultural trail is the most done nature walk in Mgahinga Gorilla National Park. The experience is about learning and experiencing the traditional forest life of Batwa pygmies who lived thousands of years in the jungle. In this experience, Batwa pygmies guide travelers into Mgahinga Forest to perform some indigenous batwa activities such as hunting, fruit gathering, collecting honey, picking medicinal herbs and making fire. Also, Travelers are taken to visit Ngarama cave where batwa pygmies would perform traditional ritual and offer sacrifices to their gods. Ngarama caves were also used as a hiding place for batwa pygmies in cave of any insecurity. More so, Batwa pygmies perfume their traditional dances, songs and poems telling their story of traditional forest life. Travelers are given chance to take part in these traditional practices which make them feel as part of the community. Batwa cultural trail costs $80 per person which money is used to support batwa community projects and improve Batwa's standards of living.
Sabinyo Gorge Walk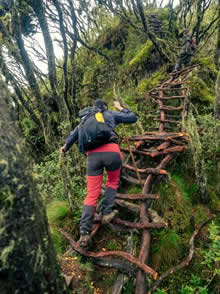 Enjoy a 5-6 hours Sabinyo walk in the sloped of the extinct Sabinyo Volcano. The gorge walk is a tiresome and strenuous experience but worth the effort You will meander through different vegetation zones of Mt Sabinyo which give you chance to see numerous birds, plants and animals. The Sabinyo walk also offers you spectacular views of the Virunga volcanoes, Bwindi Forest, Local communities, gardens and Mgahinga Gorilla National Park. Ridges have been built to ease trekking through this trail, which at times gets slippery especially in the rainy season. Physical fitness is essential for everyone taking part in Sabinyo forge walk. Sabyinyo Volcano is located in the borders of Uganda and Rwanda. It can be hiked from either sides but Uganda is the best starting point for hiking Sabyinyo Volcano. The trail is also a best birding spot sheltering numerous bird species.
Border trail
The border trail takes you to Uganda border with the Democratic Republic of Congo. Trek through the forest in the slopes of Sabinyo volcano with great chances top see birds, wild animals and different vegetation types. A hike to Gizosi hill offers you great views of Virunga Volcanoes, local communities and all other attractions in Uganda and the neighboring Congo.
Hike to Ntebeko Information Centre
You can as well hike to Ntebeko Visitor information center where registration of gorilla trekkers and pre trekking briefing is done. As its name says, Ntebeko is the center of all information about Mgahinga Gorilla National Park. There are lots of documentaries, maps and sculptures to give you all the basic information you need to know about this jungle Forest. A park warden will tell you the story of formation, wildlife and general tourism in Mgahingta Gorilla National park
NOTE: Among the things you need for a successful nature walk include walking stick, closed hiking boots, insect repellents, rain jacket, hat, sunglasses, drinking water and energy giving snacks among others.
Other things to see and do in Mgahinga Gorilla National Park
In addition to nature walks, travelers to Mgahinga Gorilla National Park have an endless list of amazing things to see and do for a great experience. These include among others:
• Mountain Gorilla Trekking
Gorilla trekking to see Nyakagyezi gorilla family, the only gorilla group in Mgahinga Gorilla National Park. Nyakagyezi family has 12 members headed by Mark as a dominant silverback gorilla. Nyakagyezi family is fully settled in Mgahinga Gorilla National Park and ready to receive visitors each day. 8 travelers are allowed to visit this family each day at the same time meaning 8 gorilla permits available everyday issued on the first come first serve basis. The other place to do Uganda gorilla tours is Bwindi Impenetrable Forest National park.
• Golden Monkey Trekking:

Golden Monkey trekking is yet another interesting activity to do in Mgahinga Gorilla National Park. The experience gives you chance to interact with the playful and lively golden monkeys in their natural habitats. The permit to trek golden monkeys cost $60 exclusive of park entrance fees.
• Golden Monkey Habituation Experience
Take part in training the wild golden moneys to make them familiar with people. A traveler in golden Monkey habituation experience hikes long researchers, primate doctors and conservationists to tame these endangered species. The 2-3 years habituation experience is the first stage all primates go through before they are opened to travelers for trekking. Golden Monkey habituation experience costs $100 exclusive of park entrance fees.
• Virunga Volcano hiking
Mgahinga Gorilla National Park is home to three extinct volcanoes offering memorable hiking experiences. The volcanoes in Mgahinga Park are Mt Sabinyo, Mt Gahinga and Mt Muhabura. Each Volcano has a different story and a different experience of hiking. A hike to the summit of any one of the three volcanoes is an exceptional experience you will live to remember. Volcano climbing is the best experience for adventure travelers.
• Bird watching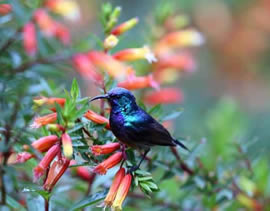 Sheltering over 180 bird species, Mgahinga Gorilla National Park is a best spot for Uganda birding safaris. 12 species of birds are endemic to This Park and cannot be found anywhere else in the world. The notable birds in Mgahinga Park include Cape Robin Chat, African Paradise flycatcher, Pin tailed whydah, Speckled mousebird, Scarlet tufted malachite sunbird, African Olive Pigeon, Olive woodpecker, Kivu ground thrush and Alpine Swift. Bird watching in Mgahinga Gorilla National Park is best done from April to mid May and October to November.
African Apes Holidays helps you to organize nature walks and other wildlife experiences in Mgahinga Gorilla National Park at affordable rates.