Join our guided golden monkey trekking safaris to Uganda and Rwanda for lively, magical and memorable primate encounters. Ranked best after gorilla tours and chimpanzee trekking, golden monkey trekking is a not a miss experience on your primate safari to Uganda and Rwanda. The exceptional feeling of being in the presence of golden monkeys has been proven by the increased number of travelers who check in to Uganda and Rwanda every day to have an intimate encounter with the endangered species. Golden monkeys are scientifically called Crcepithecus Mitis Kandti named after the golden orange and black silver fur at their backs. Of all primates in Africa (Gorillas, chimpanzees, Colobus monkey among others) golden monkeys are more lively and fun. This makes golden monkey trekking an out of the ordinary experience. The combination of gold hair, orange and black limbs makes golden monkeys one of the beautiful primate species in the world.

Golden monkey trekking in Uganda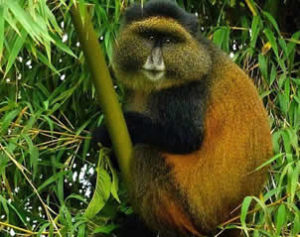 Golden monkey trekking in Uganda takes place in Mgahinga gorilla National park in Kisoro district in the southwestern region. Mgahinga national park is home to over 3000 golden monkeys, which have been habituated into 30 troops. Each golden monkey troop has over 100 members. Golden monkey trekking is one of the most done travel activities, which bring a high number of travelers to this park. A visit to see golden monkeys in Mgahinga gorilla national park is done along with other activities such as gorilla trekking, batwa cultural trail, caldera walk, nature walks, bird watching and volcano climbing (Mt Gahinga, Mt Sabyinyo &Mt Muhabura. Travelers intending to visit olden monkeys n Mgahinga Gorilla National Park are advised to book for permits directly with Uganda Wildlife Authority or through African Apes Holidays

Golden monkey habituation experience
Mgahinga Gorilla National park also offers you tailored four hours golden monkey habituation experience to take part in the training process of wild golden monkeys to make them used with people.
Golden monkey trekking in Volcanoes National Park
In Rwanda, golden monkey trekking is done in Volcanoes National park. Rwanda is believed to have two habituated golden monkey troops with Sabyinyo troop havening the highest number of members. Golden monkeys in Volcanoes National park live near the park headquarters and hence easy to trek compared to Mgahinga Gorilla National park in Uganda. A 2 Days Rwanda golden monkey tour to Volcanoes National Park is a perfect package for you to meet and interact with these lively species. Booking for Rwanda golden monkey permit can be done directly with Rwanda Development Board or trust Magical Africa Safari. Following the double increase of Rwanda gorilla permit costs from $750 to $1500 which made Rwanda gorilla tours expensive, most travelers to Rwanda now opt for golden monkey trekking which is quite affordable.
Cost of golden monkey trekking permit
Like in gorillas, travelers coming to see golden monkeys are required to have permits to allow them to visit these endangered permits. Each golden monkey permit cost $100 in both Uganda and Rwanda. This cost is inclusive of park entrance fees, ranger fees, and conservation fees. The low cost of golden monkey trekking permits yet offering a magical experience make golden monkey trekking one of the most done travel experiences in Africa. Booking is recommended at least 3 months before to ensure timely planning.
How is the day of trekking golden monkeys like?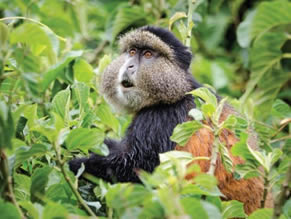 The day of trekking golden monkeys starts as early as 6:00 am with a transfer to the respective park headquarters (Ntebeko information Centre in Mgahinga or Kinigi Park headquarters in Volcanoes National park). After registering with the park, travelers are introduced to the rules and regulations of golden monkey trekking. Also, travelers are put together in groups and allocated a specific golden monkey troop to visit. Hiking to trek golden monkeys starts at 8:00 am lasting for between 30 minutes to 3 hours. In other words, golden monkey trekking is not as strenuous as gorilla or chimpanzee trekking. The do and don'ts of golden monkey trekking include:
• Keep alert, golden monkeys are playful creatures who may even knock you if you steady
• Keep a distance of seven meters away
• Do not trek when sick, Golden monkeys are susceptible to human diseases
• Do not litter in the park
• Keep your voices low
• Keep within your group
What to pack for golden monkey trekking
You ought to be ready and prepared for this memorable golden monkey trekking adventure. Whereas the hike is not as strenuous as in mountain gorilla, the experience is not a walk away. It entails hiking up and down hills searching for these playful creatures, which continuously cross over tree branches. Ensure to pack essentials to have a less difficult trek. The packing list for golden monkey trekking should include among others:
• Hiking boots/shoes
• Gardening gloves
• Rain jacket/coat
• Long-sleeved shirts
• Scarf, sunglasses, and hat
• Bottled drinking water
• Insect repellant
Other primate safaris in Africa
Besides golden monkeys, Magical Africa safaris offer you other primate experiences to Uganda and Rwanda at affordable rates. Our primate safaris include mountain gorilla trekking in Bwindi forest, Mgahinga gorilla, volcanoes and Virunga National Parks. Also, we offer you affordable chimpanzee trekking tours to Kibale forest in Uganda and Nyungwe Forest National Park Rwanda. Each Primate specie is unique and worth doing.
Golden monkey trekking remains one of the best wildlife experiences in the world. Visit Rwanda and Uganda today, spend magical time with golden monkeys and enjoy this lifetime experience at affordable rates with African Apes Holidays