Info on the habituated gorilla groups in Virunga National Park Congo with African Apes HolidaysAfrican Apes Holidays. Virunga Park is one of the four national parks to trek gorillas in Africa. Located in eastern Congo, Virunga National park is home to 8-gorilla families available foe trekking every day. Unlike the neighboring Uganda and Rwanda, Virunga National park receives few tourist visits which has kept it natural and the gorilla trekking experience magical. Mountain gorillas in Virunga Park are not exposed to man tourists compared to those in Bwindi Forest, Mgahinga and Volcanoes National park Rwanda. Virunga Park, therefore, offers you an off beaten magical gorilla trek experience that will last forever. Just like in other gorilla tour destinations, each gorilla group in Virunga National park s visited by 8 people a day for an hour's interaction. Each gorilla family is unique in its own kind regarding the story of formation, size, behaviors, and location. The Congo gorilla permits cost $450 each affordable for budget travelers compared to $700 in Uganda and $1500 in Rwanda. African Apes Holidays offers you tailored Congo gorilla safaris at affordable rates. Every day, Virunga Park management has 64 gorilla permits for gorilla trekking. A 3 Days Congo Gorilla Safari is a perfect package to trek Congo gorillas in Virunga National park. Habituated mountain gorilla groups in Virunga National park Congo are:
1. Kabirizi Gorilla Family
Located in Bukima sector of Virunga National park, Kabirizi gorilla family is an amazing gorilla group in Congo. Comprised of 19 gorilla members, Kabirizi gorilla family is the favorite gorilla family in Virunga National park. Kabirizi gorilla family is named after its current dominant silverback gorilla "Kabirizi" and also the late Director of Istitut Congolais Pour la Conservation de la Nature (ICCN) who was also called Kabirizi. Kabirizi gorilla family was habituated in 1994 an is now comprise do f 2 silverbacks, 4 adult females, 4 infants, 4 juveniles, 2 black back and 3 sub-adult females among others. Each family member plays a different role to keep the whole family lively and in peace.
2. Humba gorilla family
Formerly part of Rugendo family, Humba is yet another independent gorilla family to visit in Virunga National Park. Humba gorilla group was established in 1998 when "Humba" the current silverback rebelled and split from his father Rugendo. Humba gorilla family lives in the sectors of Bikenge and Gatovu regions and is one of the most visited gorilla families in Virunga National Park. The group comprises 10 members and the numbers are steadily increasing giving hope for sustainable gorilla tourism in Congo.
3. Rugendo Gorilla Family
Named after its late founder "Rugendo" this is your to visit the gorilla family in Virunga National park. Before the split of Humba, Rugendo was Congo's strong gorilla family, Humba left Rugendo with over 8 members which made Rugendo family a weak family. Rugendo is believed to have been the father of almost all silverbacks who have formed independent gorilla families in Virunga National Park and Congo as a whole. Rugendo gorilla family was established in 1985 hence one of Congo's oldest gorilla families. Rugendo silverback was unfortunately killed in 2001. The group comprises of 3 silverbacks 1 adult female, 2 infants, 1 black back and 2 sub-adult females.
4. Munyaga gorilla group
Located in Bukima sector, Munyanga gorilla family is currently led by Mawozo silverback who took over leadership after the disappearance of Munyaga silverback, the founder of this gorilla family. Munyaga gorilla family was formed in 1998 when the then wild Munyaga silverback grabbed members from Buhanga family that was then led by an adult female gorilla named Nsekuye. Munyaga family currently has 9 members including 3 silverbacks, 2 juveniles, 2 infants and 2 adult females.
5. Lulengo Gorilla Family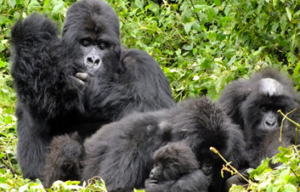 Formerly called "Musekura" Lulengo gorilla family is located in Jomba sector near the Congo Uganda border. Lulengo is named after its current silverback "Lulengo" comprised of 9 members. Lulengo gorilla family was formed after the breakup of Rugabo gorilla group following the death of Rugabo, the then-dominant silverback of Rugabo family.
6. Nyakamwe Gorilla group
Nyakamwe gorilla family was formed in 2014 breaking off from Humba gorilla family. Nyakamwe gorilla family comprise of 11 members inclusive of silver backs, adult females, juveniles and infants. Nyakamwe gorilla family is also located in Bukima area of the park.
7. Bageni gorilla family
Bageni is currently the largest gorilla group in Virunga National Park comprised of 26 members. Bageni family is located across Gatovu and Bukima sectors and is one the most visited gorilla families in Virunga National Park. The family is currently led by Bageni silverback who is recognized for his strong leadership skills that have seen this family survive to present.
8. Mapuwa gorilla family
Located in Jomba sector of Virunga National Park, Mapuwa is formerly part of Rugendo gorilla group whihcjk broke off when Mapuwa silverback left his father's group to form his own family. Mapuwa comprises 22 members including 5 babies, 3 silverbacks, 2 sun adult females, 6 adult females and 4 juveniles. Mapuwa gorilla family is, therefore, one of the largest gorilla families in Congo.
Trek one of Congo's habituated gorilla families in Virunga National Par with African Apes Holidays. Contact us today, book your Congo safari and spend time with one of the 8 gorilla families in Virunga National Park.