Call it gorilla habituation experience or gorilla training; the experience is a 2-3 year preparation of wild gorillas to make them familiar with human presence. Gorilla habituation experience is an extended session of gorilla trekking which entails spending half a day with wild gorillas in their natural habitats. African Apes Holidays offers you tailored mountain gorilla habituation experience to allow you to spend extended time with gorillas. A 3 Days gorilla habituation tour to the Bwindi forest is a suitable package to spend extended time with gorillas. If you have limited time, you can do a 1-Day Uganda gorilla habituation experience tour starting from Kigali Rwanda. Travelers hike along with a team of gorilla doctors, researchers and conservationists. Throughout the 3 years of gorilla habituation experience, park wardens and rangers MUST visit families undergoing training each day with or with no visitors. In the first stages of habitation, rangers keep a big distance from the wild gorillas. As time goes on, rangers keep coming close until when gorillas are no longer aggressive.
Where to do gorilla habituation experience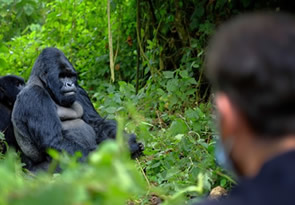 Gorilla habituation experience is only done in Rushaga sector south of Bwindi Impenetrable Forest National Park. Rushaga sector can easily be accessed via kisoro district. If you are transferring from Kigali Rwanda, cross through the Cyanika border ad you will easily connect to Rushaga sector, the center of habituation experience.
Gorilla families undergoing habituation experience
Apparently, 2 gorilla families in Bwindi are undergoing training and will be soon open for trekking. The two families are Bushaho and Bikyingi both in Rushaga sector. Four people a day visit each family. Other gorilla families in Rushaga sector are Nshongi, Bweza, Mishaya, Rwigi, Kahungye, and Busingye gorilla families. Rushaga sector is known to have the highest number of habituated gorilla families in Bwindi Impenetrable Forest National park. The high number of gorilla families guarantee gorilla permit availability giving many travelers to trek gorillas in Uganda.
Cost of gorilla habituation experience
A single gorilla habituation experience permit costs $1500 allowing you to be with gorillas for 4 hours. Just like in gorilla trekking, travelers going gorilla habituation experience must have valid permits. Magical Africa Safaris help you book and reserve a gorilla habituation experience permit. Alternatively, contact Uganda Wildlife authority directly and get your gorilla habituation experience permit. Due to high demand and limited permits, travelers are advised to book as early as 6 months prior since permits are issued on a first come first serve basis. Undeniably, gorilla habituation is expensive compared to gorilla trekking but the experience is worth the cost.
Time for gorilla habituation experience

the actual time to spend with gorillas in habituation experience is strictly four hours. However, travelers can spend a full day in the jungle before meeting these wild gorillas. The whole time depends on how fast travelers find gorillas. Trekking time before meeting gorillas can last between 30 minutes to 6 hours and then time for hiking back. The four hours spent with gorillas are for taking pics, imitating gorilla's behaviors, training gorillas and learning about their lifestyle. Travelers are reminded to be keen, quiet and observant not to waste a single second of the four hours.
How prepared should I be for the gorilla habituation experience?
Since you are dealing with wild gorillas, which will mind their business, you ought to be mentally ready for this challenging but memorable experience. Physical fitness is also key since you will continually run after gorillas. Hiking up and downhill in search and follow of wild gorillas I quite hectic but the experience is worth the effort.
What to pack for gorilla habituation experience
The packing list for mountain gorilla habituation experience include
1. Hiking boots to ease your movements through the jungle
2. Gardening gloves to protect and cover your hands
3. Packed lunch
4. Energy giving snacks to keep you strong
5. Bottled drinking water
6. Sunglasses for your eyes
7. Hat for your head
8. Long-sleeved shirts/blouses
9. Long pants
10. Rain Jackets to deal with unpredictable forest weather
11. Inspect repellent
12. Warm sweaters and scarf
13. First aid kit
NOTE: Porter and walking stick are very helpful and recommended if you want to have the very best gorilla habitation experience.

Rules of gorilla habituation experience

At the start of the gorilla habituation experience, travelers are introduced to the dos and don'ts while with gorillas. These rules and regulations are put to ensure the safety of travelers and gorillas ensuring an enjoyable and peaceful encounter.
The rules of gorilla habituation experience include
• Keep a distance of seven meters away from gorillas
• Four people per gorilla family
• Do not use flashlight cameras
• Avoid direct eye contact with gorillas
• Do not touch the gorillas
• Follow the guidance of the park ranger
• Do not trek when sick
• Do not litter in the park
• Keep calm when a gorilla charges
• Keep within your group
• Turn back your face when sneezing or coughing
Best time for gorilla habituation experience
Dry months between June, July, August, September, December, January and February are the best time to do gorilla habituation experience. During this time, forest grounds are dry with less/no rains making it easy to trek through. However, the habituation experience can be done all year round.
Where to sleep for gorilla habituation experence
Wondering where to sleep on your gorilla habituation experience? No worries, Magical Africa Safaris brings you a list of top lodges in the Rushaga sector offering you safe, comfortable and affordable accommodation services on your gorilla habituation experience tour. The top lodges in the Rushaga sector include Gorilla Safari Lodge, Rushaga Gorilla Camp, Ichumbi gorilla Lodge, Mutanda Lake Lodge, Chameleon Hill Lodge, Gorilla Valley Lodge, Nshongi Gorilla Camp, Gorilla Close-up Lodge, Nkuringo Bwindi Gorilla Lodge, and Silverback Lodge. These lodges serve travelers with excellent food and sleeping services all day and night at affordable rates.
Mountain gorilla habituation experience is your best option to extensively enjoy the company of mountain gorillas in the jungle. Contact African Apes Holidays today, book your gorilla habituation experience, spend a half-day with gorillas, learn their lifestyle and take part in their training. The magical feeling of gorilla habituation experience will change your life forever. Its undeniably worth the cost, time and energy.