Wondering what to carry for gorilla trekking? Gorilla Safaris in Africa brings you a full list of gorilla trekking packing to ensure you have a comfortable and peaceful gorilla safari to Uganda, Rwanda and the Democratic Republic of Congo. It's undeniable that the carryon gorilla trekking packing list is one of the key features that ensure a successful gorilla trek. During the gorilla tour inquiry, travelers are always reminded to carry the appropriate essentials that help them during gorilla trekking. Mountain gorillas live in the jungle forests of Bwindi Impenetrable Forest, Mgahinga Gorilla Forest, Volcanoes National park and Virunga National park in Uganda, Rwanda, and Congo respectively. These forests have thick bushes with slippery and muddy grounds which at times make gorilla tracking very difficult and strenuous. Packing the light attire for gorilla trekking, therefore, guarantees comfort and safety, saving you the hustles and bustles associated with trekking to see gorillas. The essential gorilla trekking gear every traveler coming to see mountain gorillas must have include:
Hiking Boots/Shoes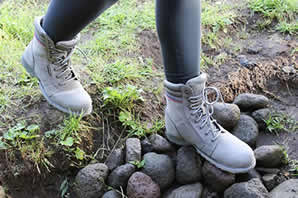 Hiking boots, shoes should be number one on your packing list. These ease your movements through slippery and muddy forest grounds of Bwindi, Volcanoes, Mgahinga and Virunga gorilla parks. Also, hiking boots protect your feet from cuts by sharp stones. Never bring open shoes and flats for gorilla trekking unless you want to have a terrible experience. Also, your gorilla trekking hiking boots should be waterproof to prevent water from reaching your feet. If you do not have hiking boots, tell your driver guide to get or you gumboots/rubber boots, which are hired at the respective park headquarters. Never bring white snickers or a pair of new shoes for gorilla trekking. They will wear out and get torn in the jungle. Therefore bring second hand or already used shoes which you will not take back after gorilla trekking.
Long-sleeved shirts/blouses
Endeavor to wear long-sleeved shirts or blouses to protect your arms from rough bushes some of which are thorny. Your gorilla trekking shirts should be in dark colors preferably Khaki to blend with forest vegetation. Short-sleeved shirts and armless blouses expose you to forest coldness, which can make you sickly after the trek. Therefore long-sleeved shirts keep you warm throughout the gorilla trek. Also, ensure to wear cotton shirts, which cannot easily be plucked by thorny bushes exposing you to hurts.
Gardening gloves
For your hands, remember o carry gardening gloves. These protect your hands from touching muddy when climbing in steep areas and also protect your hands from thorns when grabbing the bushes for support.
Rain jackets/gears
Regardless of the season, gorilla parks can receive rainfall at any time of the year. Travelers are therefore reminded to carry rain jackets o prepare for the unpredictable forest rains. Your rain jacket should be waterproof and light not too heavy for you.
Ponchos and sweaters
Carry ponchos and sweaters, or scuffs to keep you warm during gorilla trekking. In most cases gorilla national parks are always cold due to the thick forest which does not allow light penetration. A poncho/sweater will keep you warm and strong throughout.
Hats and sunglasses
The hat protects your head and hair for ladies from getting dirty and wet by forest raindrops. Interestingly, most local markets and craft shops have all kinds of hats sold at affordable rates. More so, sunglasses protect your eyes from forest insects and direct sun.
Insect repellants
Remember to carry insect repellents to protect you from bites from harmful forest insects including mosquitoes. RID is the commonly used insect repellant bought from most pharmacies and drug shops all over Africa.
Long trousers and stockings
Avoid trekking gorillas in short pants, which expose your legs and thighs to forest bushes. Also, make sure you tuck your trousers into stockings to avoid bites from ground insects and scratches by thorny bushes.
Other things to carry fro gorilla trekking
Besides clothing for gorilla trekking, travelers are reminded to pack the following essentials, which ease the gorilla trekking session. Among the things you must carry include:
Drinking water and energy-giving snacks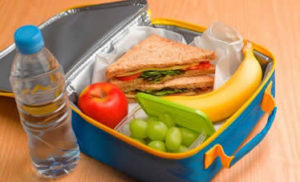 You ought to carry enough bottled drinking water and energy-giving snacks to keep you strong during the gorilla trekking session. Make sure you carry some bread, boiled egg, chapati, fruits and some juice to keep you strong for the unpredictable time you will spend in the jungle trekking to see gorillas. 3 liters of water is the recommended amount you should carry to quench the thirst during gorilla tracking.
Hiking/walking stick
A walking stick gives you support in the up and down hills of gorilla trekking safari. Fortunately, hiking sticks are all available at all national park headquarters hired at very affordable prices.
Hire a porter
Hiring a porter will ease your gorilla trekking session. Porters are local people hired to carry traveler's baggage to and from gorilla trekking. Also, porters help to support you by holding your hands in slippery and steep forests hence preventing you from falling. Hiring a porter is an indirect way of supporting local livelihood earning them living to sustain their families and improve their standards of living.
In conclusion, knowledge of what to pack for gorilla tracking is very essential for every successful gorilla trekking tour. Contact African Apes HolidaysContact African Apes Holidays, get to know the appropriate packing list for gorilla trekking to avoid any difficulty.