It takes proper and timely planning to successfully hike to the summit of Mount Rwenzoris with no fail. Physical and mental preparedness is also key for anyone planning a Uganda mountaineering safari to Mount Rwenzori. Also, known as mountain of the moon, Rwenzori Mountains rank as Africa's third-highest mountain after Mt Kilimanjaro in Tanzania and Mt Kenya. Its highest summit, Mt Stanley that stands at 5,109m is Uganda's tallest mountain and the most hiked by adventurous travelers. Also, Rwenzori ranges comprise of Rwenzori Mountains national park, one of Uganda's heritage sites. The snow-capped summit of Rwenzori mountains makes it an exception from other mountain ranges. With no doubt, the Rwenzori Mountains is Uganda's natural wonder. The 120km long and 65km wide Rwenzori Mountains is one of the major attractions for hikers across Africa and the whole globe. A 7 to 7 Days hiking trip is the appropriate package recommended to reach the summit of Mt Rwenzori. However, fewer time travelers who cannot manage to reach the Margarita summit can do a 5 Days Rwenzori hiking trip, which stops halfway. For a good climber, a 10 days Rwenzori trek is the best package for you. This takes you to the main peaks of Mt Rwenzori, which are Mt Margherita, Mt Speke, Weismann's and Mt Baker.
Routes to Hiking Mt Rwenzori
Apparently, two main routes have been designated leading travelers to Margherita, the highest peak of Mt Rwenzori.
Kilembe Route
Kilembe route was designated in 2009 and is the longest route to Margherita peak. This route is managed by the Rwenzori Trekking services who take care of a traveler from the first to the last day. The trail reaches Margherita peak from the south. Trekking through valleys of ferns forests and diverse giant heather trees make the experience more enjoyable and fun. Contact Rwenzori mountaineering services today and explore the actual beauty of Rwenzori mountains. if you cannot hike higher, Rwenzori trekking services offer a 5 Days Rwenzori hiking trip to Weismann's peak at 4,620 meters. Also, the 5 Days Mt Rwenzori trail can take you to Bamwanjara pass, which gives you great views of the Margherita peaks.
Central Circuit Route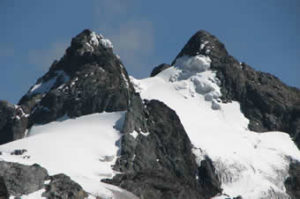 Hike using the central circuit route managed by Rwenzori Mountaineering services. The central circuit route is the oldest and main route, which the first climbers to Margherita peak used. The trail starts from Nyakalengija village at the National park headquarters sloping down to Mt Baker. Travelers then connect from baker to Mt Stanley which shelters Margherita peak, the highest peak of Mount Rwenzori. The center circuit trail takes you through various vegetation zones, which include the forests, swamps, valleys of ferns and gorges up to Mt Stanley. The permanent snow and beautiful views at the summit make you forget the hustles you went through while hiking.
When to climb Mt Rwenzori
Mt Rwenzori is best hiked in the peak season between the months of July, August, September, October, December, January, and December. During this time, rain is minimal or not at all which keeps hikers dry all throughout. Also, the nice weather is an added opportunity for good photographs for memories. More so, there are many travelers during this time who give the company making hiking more fun and enjoyable. However, Mt Rwenzori can be hiked during low season between the months of March, April, May, and November. This time, travelers are few and hiking companies give discounts to the few climbers who show up. This time is generally rain, the slopes are slippery and muddy which makes the experience more adventurous. Prepare for rains during this time of which pours for some good hours.
Accommodation on M Rwenzori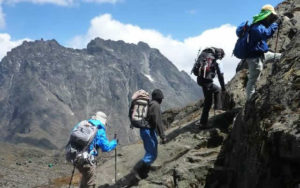 Travelers hiking Mt Rwenzori have optional lodging facilities to serve them with food and sleeping services. Travelers hiking Rwenzori are advised to spend a night near the park to catch up with the popular accommodation on Mount Rwenzori include Rubono community camp located at the main gate of the national park, the Equator now lodge, Mihunga safari lodge located at Nyakanjija and Rwenzori Turaco View Campsite among others.
What to pack for Hiking Mt Rwenzori
Endeavor to pack essentials when going for mount Rwenzori hiking. Among the things, you must pack include
• Noncotton shirts
• Long-sleeved shirts
• Hiking boots/shoes
• Pair of pants
• Waterproof pants
• Hat
• Gardening gloves
• Sunglasses
• Pair of stockings
• Good sleeping bag
• Headlamp
• Microfiber towel
• First aid kit
• Water filters
• Energy giving snacks
• Extra Camera battery
• Bottled drinking water
Other Uganda activities to do along hiking Mt Rwenzori
In addition to hiking Mt Rwenzori, travelers on Uganda safaris have an endless list of seeing to see and do. Uganda tourist activities to do along Mt Rwenzori hiking include mountain gorilla trekking in Bwindi Forest/Mgahinga Gorilla National parks, chimpanzee trekking in Kibale Forest, Game viewing in open savannah parks, bird watching and cultural tours among others. A combination of these makes a complete Uganda Safari meet, satisfy and exceed every traveler's expectations.
Conclusively, hiking Rwenzori mountains remains a must-do venture for adventurous travelers to Uganda. Contact African Apes Holidays Contact African Apes Holidays today, book your Rwenzori mountaineering trip and be part of the memorable adventure.