A hike to the summit of Mount Nyiragongo, the active volcano sheltering the word's largest lava lake has presently become one of the top bucket list adventures on African safaris. Located in the heart of Virunga National Park, Nyiragongo volcano is a must-visit on your African safari to the democratic Republic of Congo./ The summit of Nyiragongo volcano stands at 3470 meters above the sea level overlooking other 7 Virunga ranges, Virunga park, and the neighboring communities. A peep into the boiling 2 kilometers wide lave lake is a magical experience that no traveler should miss on his Congo safaris. Nyiragongo is one of the world's active volcanoes, which has erupted 34 times since 1882 when the first eruption took place. Nyiragongo volcano last erupted in 2002 and signs of a new eruption are showing an indication that the active volcano may erupt at any time. Kibatsi village is the starting pint of all Nyiragongo hiking tours. It's here that travelers are briefed and registered. Hiking starts at 10:00 am lasting for roughly 7 hours to reach the summit. Travelers stay overnight at the summit to experience the boiling lava lake, which glows at night. A 3 Days Nyiragongo Volcano hiking tour is the best package to experience and enjoy this lifetime adventure. Check the tips and guide to hiking Nyiragongo Volcano with African Apes Holidays
Be physically and mentally ready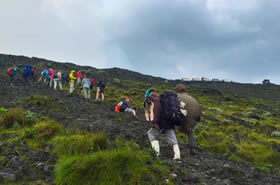 Hiking to the summit of Nyiragongo is not a walk away but rather a strenuous adventure. Physical fitness and mental readiness are therefore key when going for Nyiragongo Volcano climbing. Travelers intending to go for Nyiragongo hiking are advised to do physical exercises such as jogging and walking to ensure they are physically fit when hiking time comes. In the same way, you should be mentally ready to conquer this Volcano. Your mind must be ready to deal with the challenges associated with hiking and this will keep you move even when the hike becomes tough.

Carry your hiking permit
A valid hiking permit is a must-have for anyone hiking Nyiragongo Volcano. Ensure to pack and carry your permit kibatsi village where the hiking starts. During the briefing, all travelers will be asked to submit in their permit to the rangers. Nyiragongo hiking permit costs $300 accessed directly through ICCN or Magical Africa Safaris, your ultimate safari company. Jut like in other bookings especially gorilla safari trips, booking for Nyiragongo Volcano hiking permit is advised as early as 4 months in advance to secure permits and avoid disappointments.
Packing list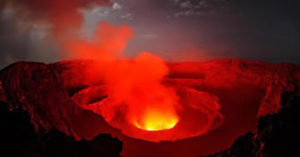 You ought to carry essentials to ensure a stress-free and enjoyable Nyiragongo Volcano hiking adventure. Among the things you must carry for Nyiragongo hiking include hiking boots/shoes to easily walk on loose and slippery rocks, gardening gloves for your hands, sunglasses for your eye, a hat for the head, long-sleeved pants, bottled drinking water, energy-giving snacks, and rain jackets. Also, remember to pack warm swears and a scarf to deal with night coldness at the summit. More so, a sleeping bag and walking stick are vital for anyone hiking Nyiragongo.

Hire a porter
Hiring a porter when hiking Nyiragongo Volcano is highly recommended. Porters play a crucial role to carry a travelers bag to and from the summit. Hiking makes it easier for a traveler to maneuver through the rock slopes which at times require touching and crawling on the ground. Porters go further to support a traveler by holding his/her hands when hiking becomes tougher. Luckily enough, porters are local people who are familiar with the hike and they do not find challenges hiking to the summit. Hiring a porter cost between 15 to 20 dollars and its an indirect way of supporting local livelihood.
Keep time
Travelers are reminded to keep time when going for Nyiragongo Hiking. Hiking starts at exactly 10:00 am after a simple briefing. All travelers are expected to be at the starting p9int as early as possible. Hiking starts at once and anyone left behind will miss out the chance since you cannot hike alone. Therefore wake up early, have breakfast and transfer to Kibatsi patrol station to avoid any disappointments. Regarding the hiking time, it all depends on the traveler's physical fitness and the sped of the slowest person in the group.
Age limit for Nyiragongo Hiking
Travelers aged 12 and below are limited to hike Nyiragongo Volcano. This is different from gorilla trekking where the age limit is below 15 years. The reason for age limit in Nyiragongo hiking is the strenuous nature of the hike and the challenges associated with it.
Accommodation on Nyiragongo Volcano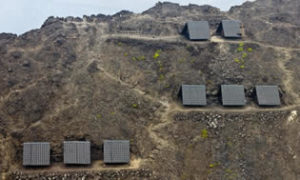 There are 12 cabin shelters to provide travelers with accommodation services at affordable rates. Each shelter is a twin room with 2 single beds. This means that a group of 24 travelers can get comfortable and affordable accommodation at the summit. If you want to camp at the summit, remember to carry a sleeping bag and warm beddings. Magical Africa Safaris help you book ad arrange a hiking tour to Nyiragongo Volcano.
Add on activities
Nyiragongo volcano hiking is done along with other tourist activities in Virunga National park such as mountain gorilla trekking, waterfall hiking, nature walks, bird watching and cultural tours among others make a complete Congo safari package.
Hiking to the summit of Nyiragongo Volcano is a lifetime adventurous activity every traveler to Congo MUST do. Contact us today, book your Nyiragongo hiking tour and get a chance to peep in the world's largest lava lake with African Apes Holidays