Is gorilla trekking worth it? Yes, a close encounter with the endangered gorillas in their natural habitats is worth doing. Given the high costs of gorilla permits in Uganda, Rwanda and the Democratic Republic of Congo, some travelers have often asked whether gorilla trekking is worth the money. Yes, the magical feeling of gorilla trekking is worth the money, effort and time. Over the years, gorilla trekking has been ranked as the best wildlife experience in the world, the must-do activity on every African Safari. A face to face encounter with the endangered gorillas has presently become a top bucket list for most if not all travelers to Uganda, Rwanda and Congo. Gorilla trekking is undeniably one of the most expensive travel activities, which some people have continuously asked whether the experience is surely worth the cost. The question of why is gorilla trekking expensive is one of the frequently asked gorilla trekking questions by travelers intending planning gorilla tours. Gorilla Safaris in Africa brings you details on why is gorilla trekking is expensive and how the experience is worth the money, time and energy.
Gorilla permits costs
Travelers going to see mountain gorillas must have valid gorilla permits. The cost of gorilla trekking permits is different in each country but the experience attained is worth it. In Uganda, a single gorilla permit costs $700 for foreign non-residents, $ 600 for foreign residents and UGX for East Africa citizens. In Rwanda, a single gorilla permit costs $1500 paid by all travelers while in Congo, a permit to see gorillas costs $450, which makes it the cheapest gorilla safari destination in Africa. The high costs of gorilla permits exclusive of other expenses on a gorilla tour make gorilla trekking an expensive activity especially for those traveling on a budget. Money collected from the sale of gorilla permits is used to support conservation initiatives in Rwanda, Uganda, and Congo, paying park rangers, gorilla doctors and also some percentage given back to local communities to improve local livelihoods. For these reasons, gorilla trekking costs is worth paying.
Endangered state of mountain gorillas
With only 1004 mountain gorillas left in the whole world, mountain gorillas are among the endangered species as listed by the International Union for Conservation of Nature (IUCN). The endangered species were once at the verge of extinction to poaching and habitat loss till the time of Dian Fossey who started a campaign to conserve gorillas in the Virunga conservation area. Gorilla safaris in Africa are done in only three countries of Uganda, Rwanda, and Congo. Anyone who wants to trek gorillas must visit any one of the three countries or both for comparisons. Therefore the endangered state of mountain gorillas makes gorilla trekking worth it. The human-like characters of mountain gorillas and their endangered state make gorilla trekking a dream come true for over 60% of travelers to Africa.
Magical feeling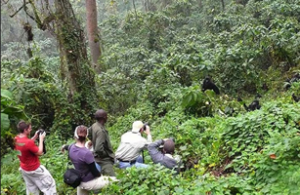 Past travelers have reviewed gorilla trekking as a magical feeling that lasts for a lifetime. The thrilling experience that travelers feel looking directly into the eyes of a silverback gorilla is worth the money and effort and time. Also, the admirable social human-like characters of mountain gorillas in their families is worth it. Just like in a human family, each gorilla in his/her family plays a different role. The silverback is the daddy of the home responsible for planning, protecting and leading the family, adult female gorillas are housewives who take care of the babies and the entire family while juveniles and black backs keep the family lively and active. The way each family plays his/her role is undeniably magical and worth the money. You feel overwhelmed by their actions, which are more like those of people. You will see mothers carry their babies at the back which experience you will never forget.
Ample time with gorillas
If you opt for gorilla habituation experience, you will never forget such an amazing encounter. Imagine spending half a day with these gentle giants in their natural habitats? Is it not magical? Gorilla habituation makes a travelers part of the training team who tame wild gorillas to make them used with human presence. You will run after gorillas, imitate their behaviors, come close to them and have ample time to learn their lifestyles. a gorilla habituation permit costs $1500 but it's worth it.
Support local people
In all gorilla national parks, a certain percentage of the gorilla permit cost is given back to local people living adjacent to gorilla habitats. This is to encourage a positive attitude and support from local people towards gorilla tourism, which promotes sustainable gorilla tours in Uganda, Rwanda, and Congo. This money is used to support local projects such as building homes for the homeless, water dams, schools and health centers which all improve the standards of living for the people. Most of the local people supported by gorilla tourism projects are Batwa pygmies, the traditional dwellers of gorilla national parks before gorilla tours were initiated. These indigenous people depended wholly on the forest for a livelihood and lived in harmony with wild animals in the forests for 1000s of years.
Gorilla trekking time
The actual time to spend with gorillas is strictly an hour counted from the time travelers set their eyes on the allocated gorilla family. However, travelers can spend a full day trekking in the jungle before meeting the gorillas. The actual; time to spend trekking to see gorillas are unpredictable. it can be as short as 30 minutes away from the briefing point or else several hours depending on the location of a gorilla family and their spend of movements.
Given the increased number of travelers coming to see gorillas, it's definite that gorilla trekking is worth it. An encounter with the endangered gorillas in their natural habitats is surely worth the money, effort and time. Book a gorilla safari to Uganda, Rwanda, and Congo feel the magical experience yourself with African Apes Holidays