We last informed you how UWA had closed all Uganda chimpanzee tours to Kibale Forest National Park in a bid to prevent the spread of the deadly corona virus to the endangered chimpanzees. YES, for close to 4 months, Uganda Wildlife Authority suspended all visits and research related activities in Kibale Forest National Park. However, we bring you the good news! The primate capital has been reopened for chimpanzee trekking, chimpanzee habituation experience, forest walks and all other tourism and research related activities in the park. Despite the increased number of Covid19 positive cases in Uganda, the Uganda Wildlife Authority together with the ministry of tourism and Uganda Tourism Board have put in place measures to ensure chimpanzees and travelers are safe from the deadly virus. African apes Holidays is at your service t book a chimpanzee permit and arrange a tailor made chimpanzee trekking tour to Kibale Forest National Park at affordable rates.
Chimpanzee trekking in Kibale Forest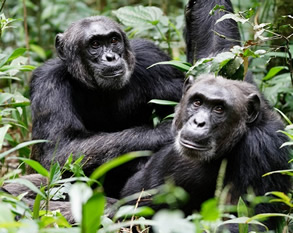 Visiting to see chimpanzees are the most done travel; activity in Kibale Forest National Park. Over 90% of all visitors to this park opt to trek the endangered chimpanzees as the first priority. The rainforest is home to the highest number of chimpanzees and primate capital in Africa. Travelers going for chimpanzee trekking in Kibale Forest are required to have permits which allow them to visit and spend ample time with man's close relatives. The cost of chimpanzee permits in Kibale Forest National Park is $200 for foreign nonresidents, $150 for foreign residents and UGX 150,000 for East African residents. These fees are inclusive of guide fees, park entrance fees for the day, government taxes, conservation fees and contributions to community development projects. Permit booking is recommended at least 4 months in advance to ensure timely planning. A 2 Days chimpanzee tour to Kibale Forest is a suitable package for you.

When is the best time to trek chimpanzees in Kibale Forest
Chimpanzees can be visited all year round from January to December and all experiences are awesome. However, the experience is best done in dry season in the months of June, July, August, September, December and January. During this time, there is little or no rains which ease movements through the jungle. Also photography is best in the dry season. On day of trekking, travelers wake up very early and transfer to Kanyanchu visitor information center for briefing and registration. Travelers are introduced to the dos and don'ts of chimpanzee trekking which include among others:
1. Wearing a face mask
2. Sanitizing with soap and water
3. Keeping a distance of 10 meters a way from the chimpanzees
4. Avoiding direct contact with chimpanzees
5. Keep voices as low as possible
6. Avoid littering in the park
Hiking to see chimpanzees starts at 8:00am lasting for between 30 minutes to several hours depending on where chimpanzees will be located and travelers hiking speed. Travelers spend an hour with the chimpanzees, taking pictures, capturing videos and enjoying the human like characters of the endangered species.
What to pack for chimpanzee trekking in Kibale Forest
Travelers visiting engendered chimpanzees in Kibale Forest are reminded to pack the right attires to ensure peaceful and enjoyable chimpanzee encounter. Among the things to pack for chimpanzee trekking include:
• Hiking boots/shoes
• Gardening gloves
• Long sleeved shorts
• Long Pants
• Sun glasses
• Hat
• Bottled drinking water
• Energy giving snacks
• Rain jacket
• First aid kit
Other activities to do in Kibale Forest
Besides chimpanzee trekking, visitors to Kibale Forest have an endless list of things to see and do on their Uganda safari to this tropical rain forest. Other top activities to do in Kibale Forest include:
• Chimpanzee Habituation Experience: Also known as CHEX, the experience is about training wild chimpanzees to make them familiar with people before they are opened for trekking. The half-day experience entails travelers following up chimpanzees in the wild while imitating the primate's behaviors. This experience lasts for between 2-3 years done by a team of park rangers, researchers and primate doctors. The experience is similar to gorilla habituation experience done in Rushaga sector south of Bwindi Forest National Park. Chimpanzee habituation experience costs $250 for foreign non residents, $250 for foreign residents and UGX 150,000 for East African residents but the magical feeling that comes along with it is worth the money. The rates are inclusive of park entrance fee, conservation, guide fee and some portion goes to local communities.
• Bird watching: In addition to being home of the primates,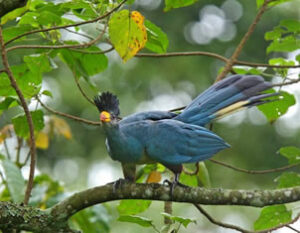 Kibale Forest National Park is a paradise for birders. The rain forest shelters over 372 bird species which include Abyssinian Ground Thrush, African Piatta, Afep Pigeon, Blue breasted kingfisher, Brown illadopsis, Grey Parrot, Masked apalis, Ruwenzori apalis, Crowned eagle, White naped pigeon, Brown chested alete and Yellow rumped tinkerbird among others. March to May and From September to November is the best time to see birds in Kibale Forest National Park. If you want to see migratory birds, November to April is the best time for you.
• Nature /Forest Walks: Explore Kibale Forest National on foot for a nature/forest walk. The experience is the best time to discover all hidden gem in the park while enjoying the sweet melodies of birds above you. Nature walking is usually done in the evening and it's the best time to spot different medicinal plants in the forest. Also, the experience give you chance to meet various animals species in the forest making the whole experience more enjoyable.
• Bigodi wetland Sanctuary: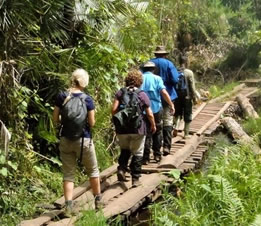 A walk to Bigodi wetland sanctuary on the fringes of Kibale Forest National Park is a not miss for all travelers to this park. The animal filled walk is a best complement for chimpanzee trekking to make a complete safari package. Travelers on this walk are assured to seeing an expansive variety of plants, animals and birds, which call this wetland home. Walking on the dancing boards is so chilly and worth a try!
Conclusively therefore, the reopening of Kibale Forest National Park is a relief for primate lovers. Book now and enjoy a close encounter with the endangered chimpanzees in Kibale Forest with African Apes Holiday, your number one primate company in Uganda.