Wow, enjoy postcovid19 discounted gorilla safaris and other wildlife safaris. African Apes Holidays is offering discounted postcovid19 gorilla safari deals to Uganda, Rwanda and the Democratic Republic of Congo. The discounted offers are to welcome our traveler's back to the field after several months of no travel due to the pandemic covid19, which put restrictions to travels all over the world. All countries had closed international travels and land borders to contain the spread of the virus across countries. However, tourism has now reopened for international travel with airports and land borders opened. Our postcpivd19 travel deals include among others:
Mountain gorilla trekking: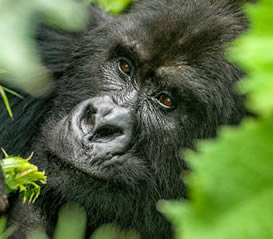 We offer discounted gorilla trekking safaris to Uganda, Rwanda and the Democratic Republic of Congo. YES, the reopening of gorilla tours has come with discounted rates to enable you meet the endangered species at a budget price. Our gorilla tours take you to Bwindi Forest National Park and the Virunga Conservation area shared by Volcanoes, Mgahinga and Virunga parks in Rwanda, Uganda and Congo respectively. Are you traveling on a tight schedule? No worries, our 1 Day gorilla trek in Rwanda or 2 Days Uganda gorilla tour is a best package for you. This gives you chance to meet and interact with the endangered gorillas in the shortest time possible. Gorilla habituation experience in Rushaga sector gives you chance to spend four hours with the endangered gorillas and is the best experience for researchers.
Game viewing tours
Enjoy our pocket friendly game viewing safaris to explore the wilderness in Africa. We take you to see numerous wild animals in the open savannahs of Murchison Falls, Queen Elizabeth, Kidepo Valley, Lake Mburo and Akagera National parks rewarding you with memorable experiences. The guided morning and evening game drives give you chance to see various wild animals such as buffalos, elephants, lions, leopards, Hyenas, giraffes, Zebras, Rhinos, Waterbucks, warthogs, Topis , hippos and elands among others. In most cases, our game viewing tours entail boat rides on the water bodies within a particular park and visits to local communities, which together make a complete safari package. Fortunately, our game viewing safaris only require park entrance fee, accommodation, transport ad driver guide. Seeing wild animals is not for paying if you are already inside the park.
Chimpanzee trekking
African Apes Holidays further offers discounted chimpanzee trekking tours in Uganda and Rwanda. Enjoy our tailor made chimpanzee safaris to Kibale Forest National Park (the primate capital in Africa) and Nyungwe Forest National Park in Rwanda. Chimpanzees share over 99% of human genes, which make them our closest relatives. Observing human like characters of chimpanzees within their communities is a lifetime experience which you should not miss. The other places to see chimpanzees in Uganda include Kyambura Gorge in Queen Elizabeth National Park, Budongo Forest and Kalinzu Forest. Travelers visiting to se chimpanzees have high chances of seeing other wild animals in the forests such as red tailed monkeys, Black and White Colubus, Vervet monkeys, baboons and blue monkeys among others.
Mountain climbing

Join our mountain hiking experiences in Uganda, Rwanda and the Democratic Republic of Congo. Hike to the top of the snow caped Mt Rwenzori, Mt Gahinga, Mt Sabyinyo or Mt Muhabura in Uganda. Our Rwanda hiking tours include
2 Days Karisimbi hiking
whose slopes shelter the famous Karisimbi gorilla family. More so, enjoy our
1-Day Bisoke hike
for the short Rwanda hiking experiences. In Congo, enjoy a
3 Days Nyiragongo Volcano hike
for a lifetime hiking experience. The summit of Nyiragongo volcano shelters the world's largest lava lake, which glows in the night.
Other discounted offers in Africa
Other special offers by African Apes Holidays include bird watching tours, community visits, golden monkey trekking and forest/nature walks among others.
In conclusion, enjoy discounted postcovid19 travel offers for gorilla trekking and game viewing in Uganda, Rwanda and the democratic Republic of Congo with African Apes Holidays