Whereas most Congo safaris focus on trekking mountain gorillas and hiking Nyiragongo Volcano, visiting to see eastern lowland gorillas in Kahuzi Biega National park is a not miss. A Congo gorilla safari entails trekking the eastern lowland gorillas in Kahuzi Biea National Park. Eastern lowland gorillas are sub specie of the eastern gorillas and are the largest gorilla specie in the world. Kahuzi Biega National park was garzetted in 1973 purposely to promote gorilla tourism in Congo and diversify tourism products in Congo. Travelers on Congo safaris can trek both mountain gorillas and eastern lowland gorillas for clear and accurate gorilla trekking experiences. Kahuzi Biega National Park is named after the two extinct Volcanoes (Kahuzi & Biega) which lie on which the forest spreads. The park covers 6000 square kilometers and is one Congo's biggest National park located west of Bukavu town in South Kivu Province. African Apes Holidays offers you tailored and affordable gorilla tours to trek Eastern Lowland gorillas in Kahuzi Biega National Parl.
Wildlife in Kahuzi Biega National Park
Kahuzi Biega National Park protects over 1178 plants, 136 mammals and 350 bird species. Vegetation cover in the park comprises of Riparian forest, bogs, swamps, and marshlands. The park has 6 distinguishable primary vegetation types, which include subalpine heather, swamp forest, mountain forest, bamboo forest, and high altitude forest. The diverse vegetation cover provides food and shelter for birds and wild animals living in Kahuzi Biega National Park.

Visiting eastern lowland Gorillas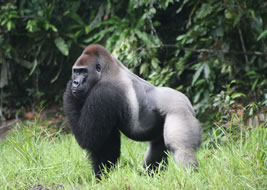 Kahuzi Biega National park shelters over 125 eastern lowland gorillas and trekking to see lowland gorillas is the most doe tourist activity in the park. Unlike in the past when gorilla trips to Kahuzi Biega Park were rare, the experience has presently become one of the common activities on Congo safaris.A gorilla permit to trek eastern lowland gorillas cost $400 allowing you to spend an hour with lowland gorillas. Eastern lowland gorilla trekking is managed by the Institut Congolais Pour la Conservation de la Nature (ICCN) in cooperation with Congo Wildlife Authority (CWA). Booking can be done directly with ICCN or through Magical Africa Safaris, your ultimate gorilla safari company. Trekking stars with a pre gorilla trekking briefing in which travelers are introduced to the rules and regulations of gorilla trekking. These include:
• Keep a distance of seven meters away from gorillas
• Do not use a flash light camera
• Avoid direct eye contact
• Keep your voices low
• Keep within your group
• Do not trek when sick
• Do not litter in the park
• Keep calm when a gorilla charges
• Follow the guide of a ranger
• Do not feed the gorillas
The packing list for trekking eastern lowland gorillas include:
1. Long-sleeved shirts
2. Long pants
3. Hiking boots/shoes
4. Gardening gloves
5. sun glasses
6. Hat
7. Scarf
8. Bottled drinking water
9. Energy giving snacks
10. Rain jacket
11. Sweater
12. Toilet paper and towel
In addition to Eastern lowland gorillas, Kahuzi Biega National Park is home to other wildlife animals which include. The other fauna listed under the IUCN red list in Kahuzi Biega National Park include African Forest Elephant (Loxodonta cyclotis), Albertine owlet (Glaucidium albertinum), Eastern chimpanzee (Pan troglodgytes schweinfurthii). Mount Kahuzi Climbing Mouse (Dendromus Kahuziensis), Maclaud's horseshoe bat (Rhinolophus maclaudi), Lowland bongo (Tragelaphus eurycerus eurycerus), African Forest buffalo (Syncerus caffer nanus), Hippopotamus (Hippotamus amphibious), Giant forest hog (Hylochoerus meinetzhageni), Leopard (PantheraPardus), Ruwenzori otter shrew (Micropotamogale Ruwenzori), Olive baboon (papio anubis). More so, Kahuzi Biega National Park is home to numerous birds listed on the IUCN red list. These include Yellow crested helmet, shrike (Prionops alberti), Congo peafowl (Afropavo Congensis), African green broadbill (Pseudecalyptomena graueri) and Rockefellers's sunbird (Nectarinia rockeffelri) among others.
Other activities in Kahuzi Biega National Park
Besides eastern lowland gorilla trekking, travelers to Kauzi Biega National Park have other optional travel activities to take part in. The other activities in Kahuzi Biega National Park include:
1. Nature walks through the park offers you a fresh feeling of the natural environment.
2. Mountain hiking (Mount Kahuzi & Mount Biega): Travelers can hike to the top of any of the Kahuzi or Biega mountains for great views of the park, local communities and other Virunga volcanoes.
3. Bird watching
4. Visiting the Lwiro rehabilitation center
5. Community visits to the neighboring local communities for a cultural performance.
Getting to and around Kahuzi Biega National park
Fly into Kigali International airport and cross over Cyangungu border, which connects you to Bukavu town in Congo. If you are connecting from Burundi, Uvira border is the best route for you to connect to Kahuzi Biega National Park. Both road, air and water transport on Lake Kivu takes you to Kahuzi Biega National Park.
Accommodation in Kahuzi Biega National Park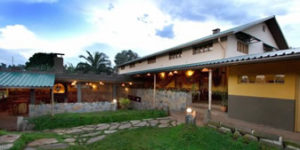 Are you wondering where to sleep in Kahuzi Biega National Park? No worries, numerous budget, midrange and luxury lodges have been built in Kahuzi Biega National Park to provide you with excellent food and sleeping services at affordable rates. The top lodges and hotels in Kahuzi Biega National Park include L'Orchids Safari Club, Coco Lodge Bukavu, Hotel Begonias Bukavu, Exodus Bukavu and Lakeside Hotel Bukavu. The well-trained staff ensures time and quality service delivery system.
In general, a Congo gorilla safari to Kahuzi Biega National Park offers you all you need to meet, satisfy and even exceed your travel expectations. Contact African Apes Holidays today, book a gorilla safari to trek eastern lowland gorilla and get a chance to trek the largest gorilla specie in the world.