Uganda the pearl of Africa is one of the best bird-watching destinations in Africa. Not only is Uganda the leading gorilla tour destination but also offers travelers with exceptional bird watching tours. With over 1500 bird species which call Uganda home, the pearl of Africa is your first birding watching stop center. A 1 Day Shoebill stork tour to Mamamba wetland offers you a rare chance to meet the famous shoebill stork. Magical Africa Safaris offers you off beaten Uganda bird watching experiences done along with gorilla trekking in Bwindi/Mgahinga Parks, Chimpanzee trekking in Kibale Forest and game viewing in Uganda's open savannah parks. Bird watching in Uganda is done in almost all corners of the country in National parks, wetlands, and lakeshores. This means that everywhere in Uganda is a birding spot with African Apes Holidays

Birding spots in Uganda
As said already, Uganda has several bird-watching spots depending on where the client wants to visit, the number of days he/she has in Uganda and the bird species he is interested in. The top bird-watching spots in Uganda include:
Queen Elizabeth National park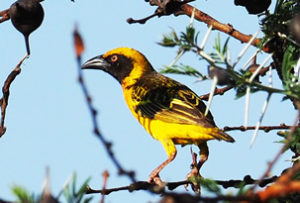 Queen Elizabeth National Park is home to over 500 bird species hence your number one biding spot in Uganda. Kazinga channel is your best birding spot in Queen Elizabeth National Park and bird watching is best done during launch cruise. Birds to see at Kazinga channel include Martial eagle, Collard Parnticles, Knob billed ducks, White-backed pelicans, Long-tailed cormorants, White-faced whistling, Pied Kingfisher, African Jacana, African skimmer, Hammerkop, White egrets, Yellow-billed stork, African fish eagle, Papyrus gonolek, White-winged terns and back terns among others. Also, visit Lake Munyayange, the home to the beautiful greater and lesser flamingoes during our bird watching trip to Queen Elizabeth National Park.
Mabamba Bay Swamp/Wetland
Visit Mabamba wetland known for its famous shoebill stork. Each day, new groups of travelers are seen canoeing through the marshy Mabamba bay looking for the shoe like billed shoebill stork. Besides shoebill, birding travelers to Mabamba bay wetland have a chance to see other bird species which include Goliath heron, Lesser Jacana, Black-faced Rufous Warbler, Black egret, Orange weaver, and Black crake among others. A 1 Day Mabamba bay wetland swamp starts at 6:00am with a transfer from Entebbe through Nakiwogo landing site with a boat cruise to Buwaya landing site. From there, travelers join a dugout canoe ride through the marshy wetland where the shoebill stork and many other bird species live.

Kibale Forest National park/ Bigodi wetland sanctuary
Whereas Kibale forest is widely known for chimpanzee trekking, the rain forest is a hidden bird-watching spot in Uganda. Bird watching in Kibale forest is done in the main forest and Bigodi wetland which together shelters a variety of bird species some of which are endemic to these areas. Bird species in Kibale Forest include African pied wagtail, black-capped Apalis, Brown-chested Alethe, Black bee-eater, Afep Pigeon, Grey parrot, Masked Apalis, Red-chested owlet, White napped pigeon, Yellow-Rumped tinkerbird, Green-breasted pitta, Cassin' Spinetail, and crowned eagle among others. Birding in Kibale Forest National park is best done in the morning and evening hours during a nature walk. March to May and September to November is the best time for bird watching in Kibale Forest. However, the experience can be done all year round.
Lake Mburo National Park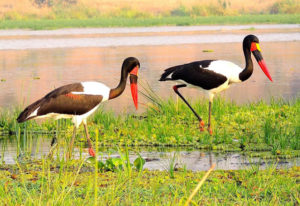 Bird watching is one of the most done tourist activities in Lake Mburo National park. With over 400 bird species, Lake Mburo National park is the best bird-watching destination on your Uganda birding safari. Among the birds in L Mburo National park include Hairy Breasted barbet, White-winged swamp, Mosque Swallow, Showbill, Tabora Cisticola, White-winged swamp warbler, Bare faced go away bird, Yellow-rumped tinker bird, Papyrus Yellow warbler, Carruther's Cisticola and African finfoot among others. Birding in Lake Mburo National Park is done on shores of Lake Mburo and in swampy/forested areas of the park. November and April are the best months to see migratory birds in Lake Mburo National Park.
Murchison Falls National Park/Budongo Forest
Complement your Uganda game safari to Murchison Falls National Park with bird watching experience. A boat cruise at the bottom of Murchison Falls is the best view for bird watching. Also, Budongo forest is home to a variety of bird species, which you should not miss on your Uganda bird watching tour. The birds in Murchison Falls National Park include White Browne Sparrow Weaver, Golaith Heron, Africa Jacana, Shoebill, Piapiac, Giant Kingfisher, Black-headed lapwing, Red-throated bee-eater, African Quailfinch, Siverbird, Swamp Flycatcher, Denham's bustard, Squacco Heron and Eastern grey plantain eater among others. Bird watching in Murchison falls National park can be done all year round but January to March is the best time for bird watching.
Semliki Valley National Park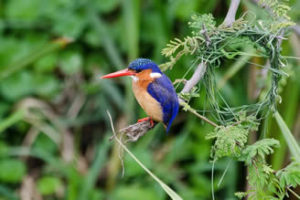 With over 460 bird species recorded to live here, Semliki Valley National Park is your best birding spot in Uganda. Bird watching is actually the first focus for most if not all travelers to Tooro Semliki National Park. Birds in Semlki Valley Natiomal Park include Greenwood hoopoe, Shoebill, African Crake, Leaf Love, African pygmy goose, Black-chinned quail finch, Red-necked falcon, Marsh tchagra, Broad billed roller, Red-necked falcon and Douth toothed barbet among others. The best time for bird watching in Semliki Valley National Park is in March, the breeding season for birds.
Other birding spots in Uganda include
Mabira Forest
Mgahinga Gorilla National Park
Bwindi Forest National Park
Lake Victoria
Entebbe Botanical Gardens
Rwenzori Mountain Park
In general, Uganda birding safaris are a not kiss on your safari to the Pearl of Africa. Contact African Apes Holidays Contact African Apes Holidays today, book your favorite birding tour and get a chance to see the famous shoebill stork and other bird species rewarding with a lifetime bird watching experience.