2020's Rwanda naming ceremony was Virtual. YES, gorilla lovers and travel enthusiasts celebrated the annual gorilla naming ceremony from their living rooms. Unlike in the past years where thousands of people would gather at Kinigi Park headquarters to witness the gorilla naming ceremony, this year's (2020) Kwita Iziina was celebrated virtually. This was the first time to celebrate gorilla naming virtually since 2005 when the activity was initiated. The cause for change in gorilla naming celebration was due to covid19, which restricted public gatherings and international travels. The Virtual Kwita Izina ceremony took place on 24th September 2020 on the world Gorilla Day. 24 baby gorillas born between June 2019 and September 2020 were given names for easy identification just like in human homes. The event was broadcasted virtually on Rwanda Television giving people chance to attend and enjoy right from their living rooms. 2020 gorilla naming was initially planned to take place in June 2020 but was later cancelled and switched to virtual to avoid the spread of the deadly corona virus.
The only people who reported at Kinigi Park head quarters were park rangers, veterinary doctors and trackers who check on the wellbeing of the endangered mountain gorillas everyday. This team was honored to give the little gorillas respective names. The event started early in the morning and guides gave a live virtual tour to Volcanoes National Park for those who were tuned in. A few speakers from Rwanda Development Board gave a highlight on gorilla naming ceremony and general gorilla conservation in the land of a thousand hills. Also, cultural performances by local artists were performed to make the ceremony lively. The virtual program was live on Visit Rwanda YouTube at 3pm Kigali time and translated in English.
Arsenal players name bay gorillas in a virtual ceremony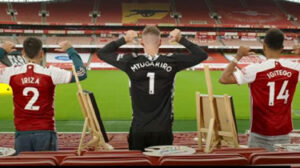 Interestingly, 3 arsenal players named three of the 24 baby gorillas that were named virtually. The three players are Pierre Emerick Aubameyang, the striker of Arsenal football club. Aubameyang named his baby gorilla "Igitego" which means goal. Igitego baby gorilla was born to Pasika in Mafunzo family on 5th July 2019. Hector Bellerin, the defender of Arsenal football club named his baby gorilla "Iriza". Iriza was born to Igihembo in Kwitonda gorilla family on 11th October 2019. Iriza locally means first born. Bernd Leno named the other baby gorilla "Myugariro" which locally translates as "defender". Myugariro was born to Kubaha in Amahoro gorilla family on 28th September 2019. In 2018, Rwanda Development Board signed a 3 Years partnership with Arsenal football club. The "Visit Rwanda" logo features on the sleeves of Arsenal players. RDB's partnership with Arsenal is aimed at promoting Rwanda gorilla safaris to the outside world encouraging more travels to the land of a thousand hills. In 2019, Rwanda Development Board reported a 5% boost in UK tourism which earned over Rwf 36 billion.
About Gorilla Naming ceremony
Rwanda Development Board started Kwita Izina in 2005. The major purpose for the new initiative was to create awareness of gorilla conservation in Rwanda and also diversify tourism products in the country. Kwita Izina is a Kinyarwanda word, which means, "to give a name," related to a human culture where a family together with friends and relatives makes a party to celebrate and give a new baby an official name. Since 2005, over 300 mountain gorillas have been given names on different occasions.
Gorilla Tourism in Rwanda
Gorilla tourism has for the past over 25 years been Rwanda's leading industry. YES, gorilla trekking contributes over 60% of Rwanda's total revenue. In 2019, Rwanda Tourism Statistics indicated that Rwanda generated $498 millions which is a 17% increase compared to 2018. Most of the money is collected from the sale of Rwanda gorilla permits, which cost $1500 each. In 2017, Rwanda Development Board double increased her gorilla permit prices from $750 to $1500, which transformed the country into a luxury gorilla tour destination. Volcanoes National Park is one of the four national parks, which shelter the endangered gorillas in Africa. Other places where gorillas live are Bwindi Impenetrable Forest National Park/Mgahinga Gorilla National Park in Uganda and Virunga National Park in the Democratic Republic of Congo. 10 gorilla families have been habituated for trekking in Rwanda. These are Susa A Group, Amahoro gorilla family, Sabyinyo gorilla group, Kwitonda gorilla family, Hirwa gorilla family, Kwitonda gorilla family, Agashya gorilla family, Ububano gorilla family, Ugenda gorilla family and Bwenge gorilla group. Each family is visited by 8 people a day which guarantee 64 permits available everyday.
How to book a Rwanda gorilla tour
Are you ready to trek to Rwanda? Gorilla tour bookings in Rwanda can be done directly through Rwanda Development Board, the government body responsible for gorilla conservation and tourism in Rwanda. Also, you can book through African Apes Holidays the trusted gorilla safari company in Rwanda. Our Rwanda gorilla safaris range from 1-Day gorilla trek in Rwanda to several days depending on the traveler's choice and available time. The nearness of Volcanoes National Park to Kigali International airport make it a first stop center for gorilla safaris in Africa. The park is located roughly 2 hours and 30 minutes drive from Kigali, which make it suitable for short time travelers. Gorilla permit booking is recommended at least 6 months before the trekking date.
In general, the virtual naming of baby gorillas in Rwanda was a great initiative. We continue to celebrate new babies in Volcanoes National Park and Africa in general.