Where is the best place to see mountain gorillas is undeniably one of the frequently asked questions about gorilla trekking in Africa. Most if not all travelers planning to visit gorillas have frequently asked where do mountain gorillas live to have a glimpse of this memorable encounter. For future travelers planning a gorilla safari, Magical Africa Safaris offers you the best guide on the best gorilla trekking destination to offer you a memorable gorilla trekking safari. Mountain gorillas are endangered species, which were once at the verge of extinction. These species only survive in 3 African countries and anyone who wants to trek gorillas must visit any of the three countries. The following is where to trek mountain gorillas
Uganda – Bwindi Forest & Mgahinga Gorilla National Parks
Located in East Africa, Uganda is home to half of the world's mountain gorillas. Uganda gorilla tours take place in two-gorilla destinations, which are Bwindi Impenetrable forest National Park and Mgahinga Gorilla National parks all located in southwestern Uganda.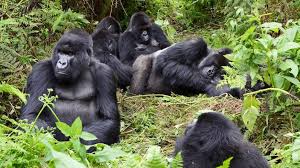 Altogether, Uganda has 18 gorilla families 17 of which live in Bwindi forest while 1 gorilla family lives in Mgahinga Forest. Currently, it's very possible to trek Uganda gorillas starting and ending in Kigali Rwanda. A 1 Day Uganda gorilla tour starts at 3:30 am with a set off from Kigali, driving for 5 hours to reach Bwindi for gorilla trekking and a drop off to Kigali at the end of the day. Budget travelers can, therefore, fly into Kigali and trek gorillas in Uganda with no difficulty. The habituated gorilla families in Uganda include
• Mubare gorilla family
• Habinyanja family
• Rushegura Family
• Nshongi Family
• Bitukura Family
• Busingye family
• Nkuringo Family
• Bwengye Family
• Christmas Family
• Nyakagyezi Family
• Katwe Family
• Bikingi Family
• Kyaguliro Family
• Bweza Family
• Oruzogo Family
• Mishaya Family
• Kahungye Family
• Bweza Gorilla group
Of recent, Uganda received the Hirwa Gorilla family, which migrated from Volcanoes National park to Mgahinga gorilla national park. Currently, the Mgahinga forest hosts 2 gorilla families. Regarding gorilla permits in Uganda, The pearl of Africa offers the most affordable gorilla permits in Africa. A single gorilla permit costs $700 for foreign non-residents, $600 for foreign residents and UGX 250,000 for East African residents. Magical Encounters Limited helps you book and reserve a gorilla permit saving you time and energy.
Rwanda – Volcanoes National Park
Rwanda ranks as a luxury gorilla destination in Africa, which offers travelers with high-end gorilla tours for a memorable experience. The land f a thousand hills is home to over 350 mountain gorillas and home to the highest number of mountain gorillas in the Virunga conservation area. Rwanda gorillas live in Volcanoes National park and have been habituated into 10 families to ease trekking. In May 2017, Rwanda double increased her gorilla permit cost from $750 to $1500 which transformed the country into a luxury gorilla destination. Also, the high-end lodges which have been constructed all over Rwanda offer travelers with luxury accommodation services making the whole trip luxury and wonderful.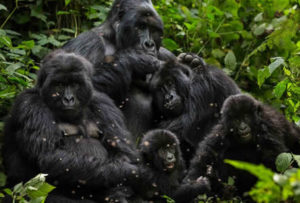 The nearness of Volcanoes National park to Kigali international airport, roughly 3 hours drive makes Rwanda a first stop center for short time travelers who want to do a 1 Day Rwanda gorilla trek in the shortest me possible. Rwanda gorilla families are
• Susa A group
• Igisha group (Susa B)
• Sabyinyo Family
• Umubano family
• Ugenda gorilla family
• Bwengye family
• Kwitonda group
• Titus gorilla family
• Karisimbi gorilla family
• Amahoro gorilla family
• Agashya gorilla family
• Mafunzo family
• Pablo gorilla family
• Hirwa family (presently living in Rwanda)
To book a Rwanda gorilla safari, contact gorilla Safaris in Africa and we shall tailor-make for you a suitable gorilla trekking tour at affordable rates.
The Democratic Republic of Congo – Virunga National park
Congo is yet another gorilla travel safari destination you sought to visit for magical and unbeaten gorilla tours in Virunga National Park. Despite the continuous threats and insecurity threats in Virunga park, Congo remains the best gorilla tour destination for adventurous travelers. The fewer visits to the park have kept it natural and off beaten. Congo has 8 gorilla families habituated for trekking every day. These are:
1. Munyaga gorilla family
2. Bageni Gorilla group
3. Nyakamwe Gorilla family
4. Humba gorilla family
5. Mapuwa gorilla group
6. Kabirizi gorilla family
7. Lulengo gorilla family
8. Rugendo gorilla family
Congo offers the very cheap gorilla tours at $450 for a gorilla permit. Budget travelers are therefore advised to trek gorillas in Congo to enjoy this magical experience at affordable rates.
In all gorilla destinations, each gorilla family is visited by a group of 8 people for an hours' interaction.
NOTE: All gorilla permit bookings are recommended as early as 6 months before the trekking date due to the high demand for gorilla tour permits. Contact African Apes Holidays today, book your gorilla tour to Uganda, Rwanda, and Congo with no difficulty.