Gorilla safaris in Africa are undeniably the most done travel experiences in the world. YES, over 50% of all travelers who visit Africa choose to do mountain gorilla trekking as their top bucket list. The magical feeling of being close to the giant silverback gorilla, observing the mother characters of adult female gorillas and how the entire gorilla family lives is a remarkable experience worth doing. However before making a gorilla booking, travelers are reminded that not everyone is allowed to see these endangered species! Who is allowed to visit and spend time with these endangered gorillas? African Apes Holidays gives you a detailed guide on whom persons are allowed to trek gorillas in Uganda, Rwanda and the Democratic Republic of Congo without any restrictions. The eligibility of gorilla trekking entail:
Travelers aged above 15 years

YES, any traveler below 15 years of sold is not allowed to participate in mountain gorilla trekking. The reason for age limit in gorilla safaris is due to the strenuous nature of hiking trails to see the gorillas, the long hours spent in the jungle and other risks involved in gorilla tracking. The other reason for age limit is due to the endangered nature of mountain gorillas. Young children may find it hard to adhere to the rules and regulations of gorilla trekking such as keeping a distance of seven meters away from gorillas and keeping calm during the gorilla encounter. While parents are trekking gorillas, children below 15 years are normally taken for a guided nature walk or a community tour in the neighboring local villages. However when a child is yet to celebrate his/her 15th birthday, the parents are asked to write and sign a consent letter to Uganda Wildlife Authority in Uganda or Rwanda Development Board in Rwanda. In this letter, the parents agree to take responsibility of any risk that may happen to the child.
Travelers with a valid permit
Every traveler visiting to see gorillas must have a valid gorilla permit. Also known as a gorilla pass, a mountain gorilla permit is a document, which allows a traveler to visit the gorillas. No traveler is allowed to see gorillas without a permit. Apparently, Rwanda offers luxury gorilla tours costing $1500 paid by each traveler. However in the corona virus period, Rwanda Development Board is offering discounted gorilla permits at $200 for foreign residents in Rwanda. On the other hand, a gorilla permit in Uganda costs $700 for foreign non residents, $600 for foreign residents and UGX 250,000 for East African citizens. Gorilla permit booking is recommended at least 6 months in advance to ensure timely planning. You can book directly with UWA in Uganda or RDB in Rwanda. Alternatively, book through African Apes Holidays, the trusted gorilla safari company in Uganda, Rwanda and the Democratic Republic of Congo.
Travelers with no any sickness
Before making any trip, travelers are asked to check with medical doctors to confirm they have no sickness. During pre gorilla trekking briefing, travelers are asked to present medical certificates to the park officials. Any traveler with any signs of flue, cough or cold is not allowed to visit the gorillas. Mountain gorillas share over 99% of human genes, which make them susceptible to human diseases. In this period of Covid19, travelers are asked to present negative covid19 test results. During gorilla encounter, travelers are asked to wear masks, sanitize, wash hands with soap and running water and keep a distance of 10 meters away from gorillas.
Physically fit travelers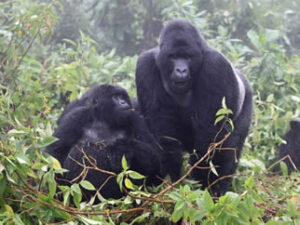 Besides having a gorilla permit, travelers trekking to see mountain gorillas should be physically fit. Gorillas live high altitude areas, which require some physical fitness. Hiking up and down hill through Bwindi Impenetrable Forest National Park and other gorilla parks is not a walk away. At times, gorilla trekking take over 7 hours before meeting the gentle giants. Travelers who are therefore not physically fit find it hard to reach the gorillas. In order to ensure physical fitness, potential travelers are advised to do physical exercises such as jogging, walking, and hiking among others.
Conclusively, travelers aged 15 years and above are eligible to trek gorillas in Rwanda, Uganda and the Democratic Republic of Congo. For more travel advice and gorilla bookings, contact African Apes Holidays