You need a porter for your gorilla trekking in Uganda, Rwanda and the Democratic Republic of Congo. Whereas its not a mandate to have one, hiring a porter on your gorilla safaris in Africa is highly recommended. Often times, travelers coming for a gorilla tour ask whether its necessary to have a porter. The right answer is YES, you surely a need a porter if you want to have a peaceful, less stressing and enjoyable gorilla trekking safari. He trek to see gorillas in Bwindi Impenetrable Forest, Mgahinga Gorilla, Volcanoes and Virunga National Parks is not an easy walk! You reach a pint and feel like the mere clothes on your body are heavy for your! Hence a need for a porter. African Apes Holidays gives you a guide on why you surely a need a porter for your gorilla safari in Africa. The reasons for hiring a porter include:
Porters are experienced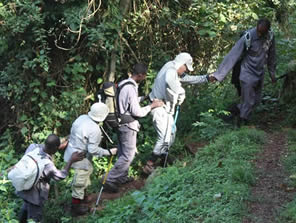 The fact that porters are local people who grew up trekking through these forests in search for firewood and going to their gardens, they are surely experienced in hiking. More so, porters have the knowledge of the terrain and know where to pass. Incase of slippery grounds, porters can hold your hands preventing you from falling.
To carry your baggage
You need a porter who will carry your baggage to and from gorilla trekking. A porter saves you the burden of carrying your bag, which contain packed lunch, camera and other essentials you need for the trek. This eases your movements through the jungle forest, which at times require you to crawl on your knees when t becomes to steep and tough. The porter will be with you all through the trekking session making your gorilla encounter less stressing and more enjoyable.
Indirect support to local communities
Hiring a porter is an indirect support of local livelihoods. Porters are local people who earn a living from pottering. Giving him/her a job therefore helps him/her to earn a living to support their families and improve their standards of living. A porter is hired for between $15 to $20 for a day but the services and help they offer is surely worth it. Porters use the money they earn to pay school fees for their children, build houses, and buy basic needs for their families
Promoting Conservation
Some porters are former poachers who transformed into conservationists. Therefore hiring them is an indirect way of promoting gorilla conservation in Uganda, Rwanda and the Democratic Republic of Congo. Pottering has reduced the rate of poaching in gorilla national parks, which has seen the population of the endangered mountain gorillas grow steadily over time.
Do I need to book for a porter in advance?
No, you will ask for a porter on the day of gorilla trekking. Porters are normally around each day of gorilla trekking. You do not need to book for a porter in advance. Just tell the park ranger and he/she will get for you the best porter.
What of a walking stick?
After hiring a porter, the next thing you need for your gorilla trek is a walking stick. The stick eases your movement up and down hill through the jungle in search of the endangered mountain gorillas. You can get a walking stick from your hotel/lodge or from the park headquarters and return it after the trek.
Guide to gorilla trekking in Africa
Besides hiring a porter and walking stick,African Apes Holidays brings you a more detailed guide for your gorilla trekking safari in Uganda, Rwanda and Congo. This guide entails when to visit, gorilla permit, what to pack and the rules of gorilla trekking in Africa.
1. Book and secure your permit in time
Endeavor to book for your gorilla permit as early as 6 months before the trekking date. At the time of booking, you will pay 30% deposit so that its removed from the available permits lists. The balance is required at least 45 days to the trekking day. A gorilla permit is a must have, a password to see the gorillas without which you cant see the endangered gorillas,. Each gorilla permit in Rwanda costs $1500 paid by all nationals. In Uganda, a single permit costs $700 for foreign non-residents, $600 for foreign residents and UGX 250,000 for East African residents.
2. Do physical exercises
Physical fitness is essential for anyone visiting the endangered species. Try to do physical exercises to prepare you for a tough gorilla encounter. Hiking through the jungle in search of the endangered gorillas is not a walk away adventure. It entails hiking up and downhill in the jungle forests of Bwindi, Mgahinga, Virunga and Volcanoes National park. A physically fit traveler will have no any worries of trekking gorillas unlike the unfit one.
3. Dress right for the jungle
Make sure you wear the right attire for the jungle. Your packing list should include walking/hiking boots, gardening gloves, long pants, long sleeved shirts, long sleeved blouses, rain jackets, hat, sun glasses, sweaters and scarf. More so, remember to carry insect repellants to protect you from dangerous insect bites.
In conclusion, you need a porter for your gorilla trekking safari in Uganda, Rwanda and the Democratic Republic of Congo, A porter will ease your gorilla trek with less or no difficulty.