Gorilla trekking is undeniably the most expensive activity on African Safaris to Uganda, Rwanda and the Democratic Republic of Congo. A 1 Day gorilla tour to Rwanda costs over $1500 which money can cater to a 5 Days Wildlife safari without the gorillas. For that case, gorilla safaris in Africa have been ranked as one of the luxury travel experiences in Africa given the high costs associated with an encounter with these endangered species. The magical feeling of facing directly with the gorillas is a lifetime experience. Currently, traveling to see mountain gorillas has become a must-do adventure form mots travelers to Africa. Over 60% of total travelers to Uganda, Rwanda, and Congo choose to trek gorillas in either Bwindi Forest, Mgahinga gorilla, Volcanoes and Virunga National parks to enjoy this once in a lifetime experience. During gorilla trip inquiries, some travelers have continuously wondered why gorilla trekking is expensive? Well, African Apes Holidays gives you a guide on why gorilla trekking is expensive and worth it.
The high cost of gorilla trekking permits
The cost of gorilla trekking permits in Uganda, Rwanda, and Congo is one of the reasons for expensive gorilla safaris. In Rwanda, a single gorilla permit cost $1500 while in Uganda it costs $600 for foreign non-residents, $500 for foreign residents and UGX 250,000 for East African residents. In Congo, gorilla permits cost $450 each which Congo the affordable gorilla tour destination for those traveling on a budget. With effect from 1st July 2020, the cost of Uganda gorilla permits will rise to $700 for foreign non-residents and $600 for foreign residents. A gorilla permit is a pass to see gorillas without which no one is allowed to see these endangered species. At the start of each trekking day, visitors gather at the respective park headquarters where everyone is asked to present his/her valid gorilla permit. Anyone without a permit is not allowed to visit the gorillas in the jungle. If you want to book a gorilla permit in Uganda, Rwanda or Congo, Gorilla Safaris in Africa is at your service. We book and reserve gorilla permits for clients who contact us saving them the hustle and stresses of booking permits for themselves. Alternatively, you can book directly with the Uganda Wildlife Authority in Uganda and Rwanda Development Board in Rwanda. Gorilla permit prices are inclusive of park entrance fees, ranger fees, and other government taxes.
Mountain gorillas are endangered species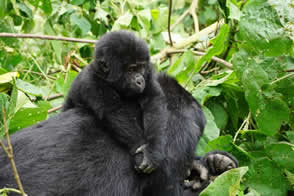 With only 1004 mountain gorillas surviving in the whole world, it's definite that the species are endangered. In the 1980s mountain gorillas were on the verge of extinction to poaching, loss of habitat and civil conflicts. Great thanks to Dian Fossey who came to the Virunga massif in 1987 to save the then critically endangered species. Dian Fossey camped in the Virunga massif where she opened up a campaign against poaching. Unfortunately, Dian Fossey was later killed by poachers but her campaign to save gorillas continued up to present. Since her time, the population of mountain gorilla has stably increased which gives hope for sustainable tourism.
Conservation purpose
Uganda Wildlife Authority and Rwanda Development Board set high prices for gorilla permits to promote gorilla conservation. High costs of gorilla permits limit the number of travelers visiting gorillas, which save gorillas from crowds that put them at risk. Also, the money collected from the sale of gorilla permits is used to support conservation projects in gorilla national parks such as paying for tourism police, park rangers, and wardens who ensure the wellbeing of mountain gorillas in the jungle.
Additional expenses on the trip
Gorilla trekking does not only include buying gorilla permits buy also other expenses. The trip involves paying for transport to and from gorilla parks, accommodation services, driver guides, porters and miscellaneous expenses. Whereas some of these expenses especially porters are not mandatory, travelers are advised to hire them to have a peaceful and successful gorilla trek. Therefore the inclusion of these extra expenses on a gorilla trip makes the whole experience expensive. The lodge facilities in gorilla national parks are categorized into luxury, mid-range and budget depending on the traveler's budget.
Improving local livelihoods
Part of the money collected from gorilla permits is given back to local communities adjacent to gorilla national parks. In Uganda, UWA gives 20% of the total revenue collected from gorilla safaris to local areas helping them to improve their standards of living and earn a living. In Rwanda, local people are given 10% of the total revenue collected from gorilla permits.
When to book a gorilla permits
Future travelers coming to see gorillas are advised to book for permits as early as 6 months before the trekking date. The reason for the early booking is the high demand for permits. Also, early booking ensures time planning and hotel bookings which all make your gorilla safari memorable and with no difficulty.
Generally, gorilla trekking is the most expensive travel activity in Uganda, Rwanda and the Democratic Republic of Congo. However, the magical feeling of trekking gorillas is worth the money, effort and time.