Located in Northwestern Uganda, Murchison Falls National park is Uganda's oldest National park that was established in 1952 to promote wildlife conservation and tourism in the pearl of Africa. The park also ranks as Uganda's largest national park spreading over 3,893 square kilometers (1,503 sq mi) and is shared by districts of Kiryandongo, Bulisa, Masindi, and Nwoya. The national park is bordered by Lakes Albert and Lake Victoria spreading up to Karuma Falls. It's one of the most visited National parks in Uganda due to its high concentration of wildlife which encourages numerous tourist activities and memorable Uganda safari experiences. The park was first visited by John Speke and James Grant in 1862 and later explored by Sir Samuel and Florence Baker from 1863 to 1864. Between 1907 to 1912, the park was infected by sleeping sickness, which led to the evacuation of the then inhabitants. Murchison Falls Park is named after the mighty Murchison Falls, which flows in the heart of the National Park. The park comprises of Budongo forest, Kaniyo Pabidi and Rabongo wildlife reserves which all have unique features to discover. A 3 Days Murchison Falls National park tour is a suitable package to explore this great park.
Vegetation cover & Wildlife in Murchison Falls National Park
Vegetation in Murchison Falls National Park comprises of riverine forest woodlands, savannah grasslands, and swamps. These provide food and habitat for numerous birds and wild animals, which call this savannah park home. The park is home to 76 mammals, 45-0 bird species some of which are endemic to the area.
What to see and do in Murchison Falls National Park
For those traveling to Murchison Falls National Park, the park has an endless list of tourist attractions and activities. The top things to see and do in Murchison Falls National Park include:
Game Viewing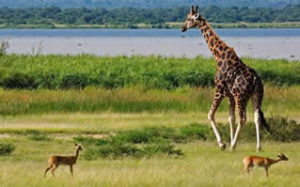 Being home to a high concentration of wild animals, game viewing is the key tourist activity in Murchison Falls National Park. Day, evening and night game drives help travelers spot numerous animals grazing, browsing and hunting at a close range. Game viewing is well done in the northern part of the national park. Among the animals seen in Murchison falls National park include giraffes, lions, Jackson's heartbeats, warthogs, Oribis, waterbucks, Uganda kobs, elephants, buffalos, bush pigs, hyenas among others.
Murchison Falls
The mighty Murchison falls are the iconic attraction in this park. Here travelers witness how the strong river Nile waters squeeze through a 7-meter gorge to fall 43 meters down into the devil's cauldron forming the waterfall. A hike to the top of these falls offers you the best views of the falls, the park, and the neighboring communities. More so, a boat cruise to the bottom of the falls is a not miss for every traveler to Murchison Falls National park. The banks of river Nile shelters water animals (crocodile, hippos plus numerous bird species).
Chimpanzee trekking
Go chimpanzee trekking in Budongo Forest to have a close encounter with the endangered chimpanzees "man's closest relatives". Spend an hour in the presence of chimpanzees, embrace their human-like characters as adult females nurse babies like human mothers, adult males guard the family while young ones play continuously keeping the whole family lively. Travelers are advised to keep a distance of seven meters away fro chimpanzees, avoid using flashlight cameras, talk on a low tone, keep within their groups and not to trek when sick to avoid the spread of human-wildlife diseases.
Getting to and around Murchison Falls National Park
Murchison Falls Park can be accessed by road transport. The distance from Kampala/Entebbe to Murchison Falls National park is roughly 5 hours drive via Masindi. This scenic drive offers travelers with great views of the local farms, tea farms, and communities. Also, endeavor to stop at Zziwa rhino sanctuary in Nakasongola for rhino-tracking en route to Murchison falls Park. Alternatively, short time travelers can use air transport from Kajjansi airstrip to Pakuba airstrip. This is the best option for short time travelers doing a 1 Day Murchison falls National Park tour.
Where to Sleep/Accommodation in Murchison Falls National parks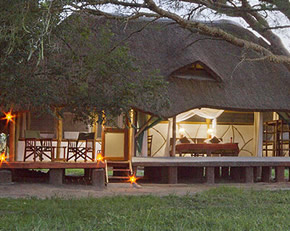 Travelers to Murchison Falls Park have a variety of excellent lodging facilities offering first-class food and sleeping services at affordable rates. Lodges/camps in Murchison Falls Park are categorized into Budget, midrange, and luxury but services at all remises are excellent. The top lodges in Murchison Falls National Park are Chobe Safari Lodge, Paraa Safari Lodge, Sambyiya River Lodge, Murchison River Lodge, Pakuba lodge, Geo Lodges Nile Safar Lodge, Rest Chilli Rest Camp, Yebo Safari Camp, UWA Campsite, Murchison Safari Lodge and Budongo eco lodge among others. Well trained and happy team of waiters, waitresses, housekeepers, chefs and bar attendants at each lodge ensure moth service and timely service delivery at all times of day and night as requested by the client.
How to book a Uganda safari to Murchison falls park?
Do you want to book a safari to Murchison Falls Park? No worries, Magical Africa Safaris is at your service. We tailor-make for you a suitable package to Murchison falls to meet your travel expectations and budget. We further book-lodging services for you to ensure safety and comfort. Contact us today, book a Uganda tour to Murchison Falls Park and explore this Uganda; oldest and largest National Park.
With all its treasures, Murchison Falls National park is a natural wonder for Uganda. A variety of animals, birds and travel experiences in this park make it worth visiting b every traveler on a Uganda safari.